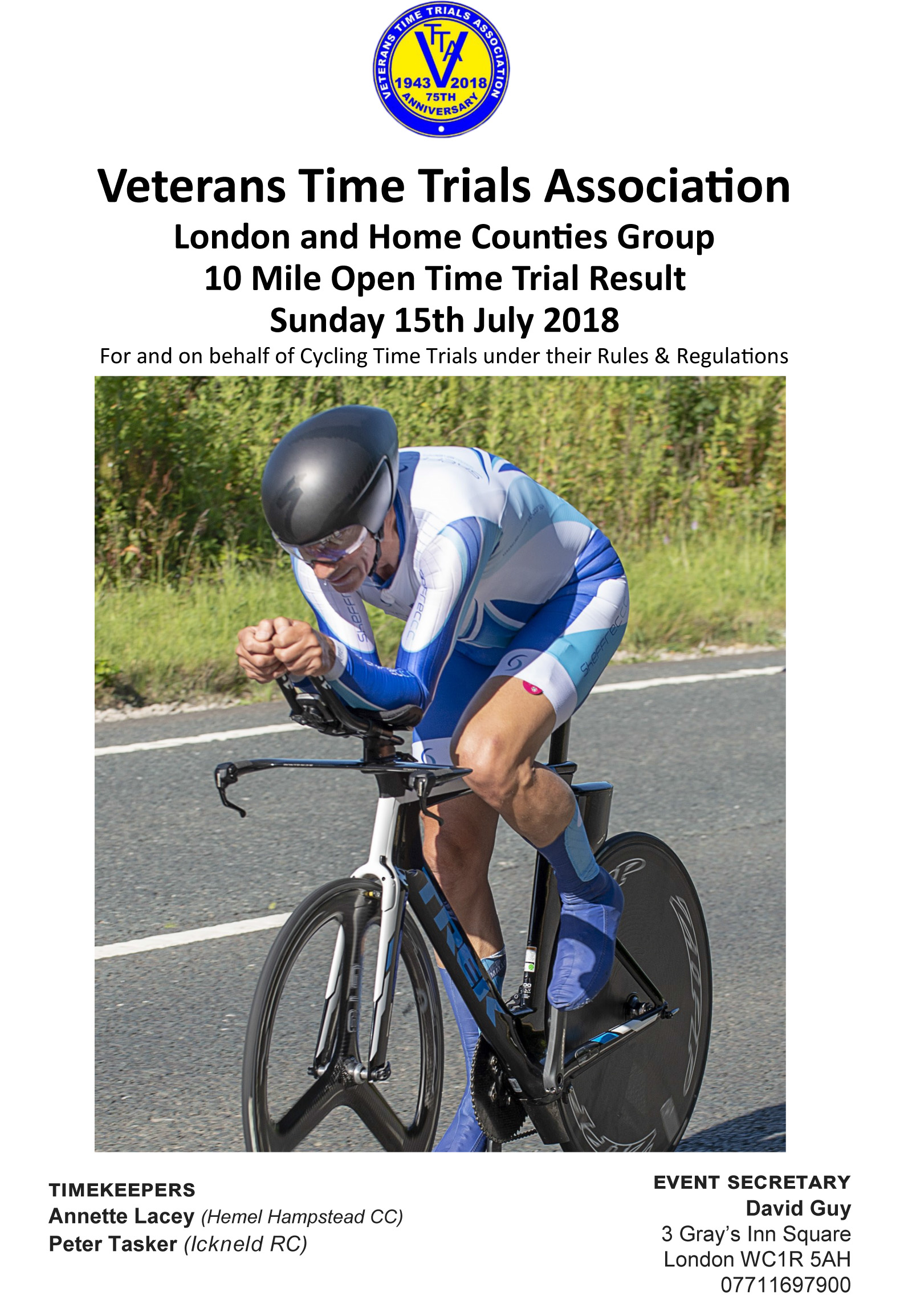 PRIZE WINNERS

1st

Keith Ainsworth

Sheffrec CC

0:19:21:

0:08:11

2nd

Simon Norman

Bedfordshire Road RT

0:18:48

0:07:44

3rd

Mark Jones

DRAG2ZERO

0:18:49

0:07:38

1st

Woman

Helen Reynolds

Hemel Hempstead CC

0:21:26

0:07:37

2nd

Woman

Claire Emons

Newbury RC

0:22:19

0:06:29

3rd

Woman

Joy Payne

Amersham Road CC

0:23:36

0:06:23

1st

Tandem

Phil Barnes

Sharon Clifford

Team Swift

SheHair Racing Team

0:21:20

0:08:01

Club Team

Of Three

Helen Reynolds

Hemel Hempstead CC

0:21:26:

0:07:37

John Lacey

0:20:31:

0:06:33

Geoff Reynolds

0:21:08:

0:05:46

Total

0:19:56

The winners on standard to receive an invitation to the Annual Luncheon and Prize Presentation where they will be presented with medals.

The Luncheon to be held on 13th January 2019
Some competitors thought the sun rather too hot, but fast times were recorded. Fastest on scratch by No 100 Simon Norman of Bedfordshire Road RT at 18:48 gave him second place on Standard to Sheffrec CC's Keith Ainsworth, No 80, with 19:21 and a plus of 8:11.
The tandem of Sharon Clifford and Phil Barnes was the only other entrant to better 8 minutes on standard with a plus of 8:01.
Women were close behind the men on Standard with Helen Reynolds first woman and 4th overall with 7:37. In doing so she led Hemel Hampstead CC (with John Lacey and Geoff Reynolds) to take the team award with a plus of 19:56.
One particularly frustrating DNS was recorded by Tim Childs with a puncture in the starting queue!
A couple of riders DNFed after missing the first slip road where it is difficult to place a direction sign. All finishers followed the rule for pulling off the carriageway at the beginning of the finishing slip road so no rider was disqualified for breach of that rule. However four riders after the finish line were reported to "meander" out into the slip road. The marshal reported this as dangerous and they were lucky the motorists following were 'really patient'.
One rider lost his bag containing credit card and car keys on the road; a passing motorist picked it up and handed it in to a marshal. It was back at HQ before he was! Some motorists like cyclists it seems!
Thanks are due to Time Keepers, Peter Tasker and Annette Lacey, to Paul Marchant for pushing off all riders unaided and without a break, to Brian Foran, Trish Milligan and Kevin Hallahan for marshalling at the first turn, to Alex Marzec, Nikki Hunt and Richard Moule for marshalling at the second turn, to Richard Partington for acting as finish spotter and John Hoskins as recorder in sending results to HQ. to Jim Burgin for creating the traditional start and results sheets, to Alex Marzec for writing results on the board and to Audrey Hughes for controlling signing on and off, giving course directions and cutting up the cakes! As you all know such helpers are essential for the event.
David Guy
Event Organiser