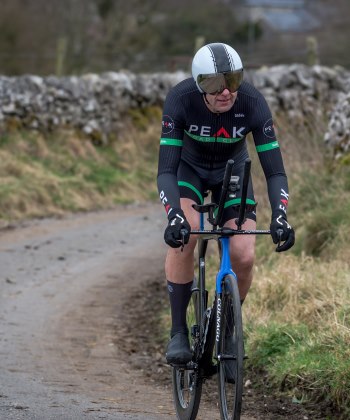 Andy Hicklin, Peak RC, pictured above, in Matlock CC's Hilly on 2nd March
Coalville Wheelers 10, 16th February
It seems that no sooner have racing machines been set aside, than they are taken out of hibernation, dusted down, and pressed into action. The Coalville Wheelers 10 saw several of the North Mids keen to begin their season. Blustery but unseasonably warm conditions greeted the riders, on the lumpy A10/34 course over quiet roads. Results include Steve Gibson, 22-27, who was 4th overall and 1st vet, Andy Hicklin in 23-09 with 9th, and Andy Clark who did 27-19 to take more than 2 ½ minutes off his time from this event last year…The event was won by Marinus Petersen in 21-32. Results: https://cyclingtimetrials.org.uk/race-results/17846#anchor
Rossendale RC Hilly, 23rd February
Despite it being the last weekend in February, it was superb weather for racing in most parts of the country. North Mids' Andy Hicklin, Peak RC, took advantage of the great conditions in Rossendale RC's hilly time trial over a course based on Bolton by Bowland in the Ribble valley, to record 25-27, coming 14th overall and 1st vet over 50. Super quiet country lanes throughout, with little flat road and gradients up to 10 or 12%, made for a proper sporting course. Richard Bideau and Fraser Martin were joint winners in 23-42. Results: https://cyclingtimetrials.org.uk/race-results/18371#anchor
Matlock CC Hilly, 2nd March
North Mids vets battled strong winds in Matlock CC's hilly time trial, especially on the exposed five mile leg along the A515 between the 'Salt Heaps' and Newhaven. And much colder conditions than last weekend's freak hot weather, although far better than the Beast from the East that we were enduring in 2018. Starting in Alport, then climbing through Youlgreave and along Long Rake to Monyash, the A515, then Grangemill before the downhill blast from Winster back to Alport, this event is a proper tough test. Fine results from Andy Hicklin, joint 9th in 1-07-59; Daryl May just outside the top 10, at 12th in 1-09-54; and Trevor Mayne 15th in 1-12-30. Male and female winners were Andy Nichols in 1-00-33 and Francesca Hall in 1-13-31. Results and race report: https://cyclingtimetrials.org.uk/race-report/17845#anchor
University of Manchester CC 10, 2nd March
Andy Clark recorded 25-45 in the University of Manchester CC's 10, on Manchester's J2/1, having dodged the potholes and broken bits of road. At least Chelford Island has been resurfaced since last season! Male and female winners were Alex Royle in 20-56 and Emily Martin in 24-22. Results: https://cyclingtimetrials.org.uk/race-results/18830#anchor
Sheffrec CC 2-up 25, 9th March
Daryl May of the North Mids partnered senior, Liam Bromley, in the Sheffrec CC 2-up 25, in cold and windy conditions on the flat but horribly exposed O25/11, to record a fine 57-11 for 6th place overall and two places ahead of North Mids vet Allan Wailoo who was partnered by espoir James Mellor, in 1-00-08. Dominic Watts, of the North Mids, teamed-up with Ben Lowe to record 1-01-13 and 10th overall. Just behind, in 1-02-41, was North Mids' Joe le Sage, partnered by James Bell. Paul Mapletoft, North Mids, started with Michael Lamb, but finished alone, in 1-03-46 for 13th spot.
Male and female winning teams were Joe Perkins, Alex Pritchard and Alex Clay, Francesca Hall, in 53-01 and 1-05-45, respectively. Results and race report: https://cyclingtimetrials.org.uk/race-report/18624#anchor
Stretford Wheelers 10, 30th March
Rutland CC's Andy Clark, and Joe Le Sage, travelled west of the Pennines to ride the Stretford Wheelers 10 on the J2/1 course, which is single carriageway with a roundabout to negotiate at miles 1 and 9, pedestrian lights at Chelford, a deteriorating road surface, and whilst not hilly is certainly not flat. An honest test, then. Andy recorded 25-30 whilst Joe did an impressively rapid 22-00 for 9th overall. Fastest male was Jack Brown in 20-20, and fastest female was Keri Parton in 24-24. Full results: https://cyclingtimetrials.org.uk/race-results/17975#anchor
If your membership of the VTTA North Mids has lapsed (the renewal date was 28th February latest), there is the option to renew: https://www.vtta.org.uk/news/254-lapsed-membership-how-to-renew
Many thanks to all those who have renewed membership for 2019.
Chris (Lea)
Buxton CC
Membership and Communications, VTTA North Midlands