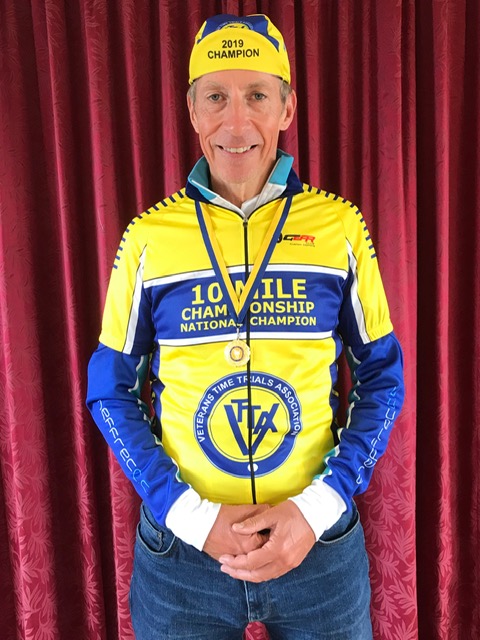 Keith Ainsworth (Sheffrec CC), pictured above, VTTA 10 mile National Champion 2019 (see 28th April report, below)
Birdwell Wheelers 25, 6th April
The Birdwell Wheelers 25 on the pan flat but exposed O25/11 course had entries from several of the North Mids vets. Daryl May was 12th in 57-56, Trevor Mayne not far behind at 14th in 58-07, Gordon Wordsworth 17th in 1-01-45 (knocking two minutes from his course PB), with John Martin 18th in 1-02-48. Winner of the event overall was Liam Bromley in a very rapid 52-18. Jennifer Newbery was fastest female, in 1-05-10. Results: https://cyclingtimetrials.org.uk/race-results/18626#anchor
Ravensthorpe CC 10, 6th April
Ala and Andy Whitehead rode the Ravensthorpe CC 10 on the V910, recording 33-27 and 23-48, respectively. This was a course PB for Andy, whilst Ala was a little over 2 ½ minutes quicker than the last time on this course in early March. Fastest male rider was Ed Nicholson in 21-15, with fastest female being Rebecca Bland in 27-39. Results: https://cyclingtimetrials.org.uk/race-results/18993#anchor
Melton Olympic CC 25, 6th April
Andy Clark had a busy racing weekend. In his first 25 of the season on the rapid but windswept dual carriageway A25/34 course in Melton Olympic CC's event, on Saturday, he recorded 1-04-36, beaten by a mere 1 second by Anthony Keyworth in 1-04-35. Several other North Mids vets rode this event, including Paul Mapletoft in 58-10, Alan Cooke in 58-21, Richard Gray in 1-02-59, and Gary Kondor in 1-03-33. Conditions were cool, dry, with a moderate north easterly hampering the long return leg up to Newark. Fastest overall was Michael Smith in 51-07, with fastest female being Kathryn Smith on 1-06-41. Results: https://cyclingtimetrials.org.uk/race-results/17851#anchor
Spalding CC Hilly, 7th April
Andy Clark then rode Spalding CC's hilly 18 mile time trial (heading west and uphill for 9 miles from just outside Bourne, then a mostly downhill return) on a decidedly cold Sunday morning, finishing four minutes faster than last year, in 50-57. Brett Harwood was fastest finisher in a superb 38-45, with fastest female being Madeleine Gammons in 48-49. Results: https://cyclingtimetrials.org.uk/race-results/18522#anchor
Beacon RCC Hilly, 7th April
Daryl May rode the 2nd round of the Sigma Sport Classic series, promoted by the Beacon RCC over a hilly 37 mile course to the north-west of Worcester, finishing as 6th vet in 1-46-06, with the veteran's category won by Danny Axford in 1-34-51. Fastest overall was Phil Williams in 1-29-44, with fastest female being Joscelin Lowden in 1-41-10. Results: https://cyclingtimetrials.org.uk/race-results/17913#anchor
Nelson Wheelers 'Circuit of the Dales', 7th April
Andy Hicklin upped his time trialling distance to ride the 50 mile Nelson Wheelers 'Circuit of the Dales' event on Sunday morning. Starting and finishing just outside Ingleton in the Yorkshire Dales, then passing through Kirkby Lonsdale, Sedbergh and Hawes, before the long climb up to and over Ribblehead, this is a tough test and a classic event, having seen some big hitters through the years (Lloydy, Boardman, Butler, Dawson, etc.), with 2019 including Andy Jackson, Richard Bideau and Philip Graves, amongst others. Andy was 19th overall in 2-14-58, whilst the event was won by Brian Fogarty in 2-01-23. Fastest female was Rachel Hawker in 2-38-35. Results: https://cyclingtimetrials.org.uk/race-results/18380#anchor
Barton Wheelers 10, 13th April
Barton Wheelers 10 was run on the sporting C10/7 course comprising quiet country lanes, but exposed to the full blast of the wind on top of the North Lincolnshire Wolds, just south of Barton-upon-Humber. Keith Ainsworth opened his season here with 21-31 for 5th place overall and 1st vet on standard. Also braving the conditions were Steve Cowlbeck in 25-05, Andy Clark with 25-50 – who in a turnaround from last week's 25 just pipped Anthony Keyworth who recorded 25-58. The event was won by Joe Laverick in a stunning 19-51, but then he is a pro with Madison Genesis. Even so, 19-51! Laura Walker was fastest female in 27-07. Results: https://cyclingtimetrials.org.uk/race-results/18523#anchor
BDCA 25, 13th April
In the BDCA 25 , using a modified version of the old A25/11 course on the A50 and which now turns using a new flyover at the JCB plant, Mat Ivings (Buxton CC) did a rapid 52-24, for 13th place. Trevor Mayne did 54-05 for 19th place. Fastest overall was Andy Jackson in 48-48, with fastest female being Keri Parton in 58-18. Full results: https://cyclingtimetrials.org.uk/race-results/17853#anchor and https://cyclingtimetrials.org.uk/race-results/17852#anchor
VTTA (Yorkshire) 25, 14th April
Riding in very cold temperatures and with strong crosswinds, on the potentially fast (in the right conditions) A168/A19 dual carriageway V236/1 in the VTTA (Yorkshire) 25, were Paul Mapletoft in 59-01 (+10-02), Andy Whitehead in 59-92 (+9-09), John Martin in 1-01-46 (+7-44), Paul Heggie 1-06-45 (+4-59), Paul Ruta 1-08-44 (+5-56), Wayne Fuller 1-11-06 (+4-06) and Ala Whitehead 1-22-11 (-9-25). Unfortunately, Richard Gray punctured. Stephen Ayres was fastest overall in 52-33, with fastest female being Fiona Sharp in 1-01-12. Results: https://cyclingtimetrials.org.uk/race-results/18999#anchor
Buxton CC mountain time trial, 19th April
Kicking off events for North Mids vets on Good Friday was the Buxton CC mountain time trial, 3rd event in the Sigma Sport Classic series. This is a stern test over a tough 11 mile triangular course between Longnor, Flash and Royal Cottage, with 390m height gain per lap. Women and vets ride 2 laps, with seniors doing 3 laps. Here's the course profile: https://veloviewer.com/segment/1191137
Unusually sunny and warm conditions for the Peak District, with a tailwind on the main climb, led to many fast times, although the wind did get up later in the day making things a little tougher for the vets and women. Joe Le Sage (Rutland CC) was 2nd vet on actual with 59-35 and not that far off the win (Scott Walker, Team Bottrill, did 59-12), Andy Hicklin (Peak RC) was 5th in 1-01-02, Trevor Mayne (Birdwell Whs) 10th in 1-01-52 (and 3rd vet on standard), Daryl May (Sheffrec CC) 13th in 1-02-41 and Dominic Watts (VeloViewer)31st in 1-08-14. Fastest female was Joscelin Lowden, series leader, in 1-00-24. Breaking Stuart Dangerfield's 2003 course record by a huge 5-04, to record 1-17-09 for three laps, was John Archibald, just shy of an average speed of 26 mph, which is simply amazing on that course. As an aside, Buxton CC's Arne Beswick (not yet a vet), rode 3 laps to finish in 1-36-06, on 80" fixed………Full results: https://cyclingtimetrials.org.uk/race-results/17986#anchor
City RC (Hull) 10, 19th April
The City RC (Hull) 10 on Good Friday was held this year on the sluggish V714 rather than the legendary-fast V718. Rob Barnard (Team Cystic Fibrosis) rode and recorded 23-59. The event was won by Pro rider Joe Laverick in a super 19-29. What would he have done on the V718? Fastest female was Fiona Sharp in 23-34. Full results: https://cyclingtimetrials.org.uk/race-results/19000#anchor
VTTA Notts and East Mids 10, 20th April
Rob Barnard then travelled down to Long Bennington on Saturday for the VTTA Notts and East Mids 10, on the A10/14 on the A1, recording 22-22. Conditions were very good, hot and with not too much traffic. Also riding were three vets from the Rutland CC: Gary Clarke doing 24-38, Ben Hamilton 24-22, and Andy Clark 24-00 dead for his fastest 10 of the season, so far.
The A10/14 event proved popular with the North Mids, with Elmsall RC riders John Martin and Peter Stirk recording 22-18 and 26-22, respectively, and Oliver Wright (Common Lane Occasionals) starting his season with a 23-05.
Also riding was the amazing Syd Wilson (Sheffield Phoenix CC) in 29-05. This is a new national age record, beating Syd's 2018 record of 29-21. A superb achievement.
In addition, Wayne Fuller did 25-25 and David Buxton 23-32, both from the Rotherham Whs CC, Paul Mapletoft (Kiveton Park CC) did 21-57, but fastest of all the North Mids vets was Shawn Gough, in a very rapid 20-40. Fastest overall was Brett Harwood in 19-20, whilst fastest female was Karen Ledger in 21-13. Full results: https://cyclingtimetrials.org.uk/race-results/17854#anchor
Sleaford Wheelers 10, 20th April
In the Sleaford Whs 10, held on the rolling Lincolnshire Wolds C10/10, Keith Ainsworth (Sheffrec CC) was so close to the win, his 20-59 being just 4 seconds shy of Billy Jarish' 20-55. As well as his 2nd place, Keith was fastest vet. Andy Clark (Rutland CC) did 25-24. Fastest female was Keely Mcniffe in 26-31. Full results: https://cyclingtimetrials.org.uk/race-results/18524#anchor
Seacroft Whs 10, 20th April
Andy and Al Whitehead (Rockingham CC) rode the Seacroft Whs 10, on the V511 near Selby. Andy did 23-06 and Ala 31-56. Fastest overall was Darren Yarwood 20-28, with fastest female being Sian Randall in 25-15. Full results: https://cyclingtimetrials.org.uk/race-results/19002#anchor
M&DLCA Invitation Men's 10, 20th April
Gordon Wordsworth (Rutland CC) rode to 13th place in the M&DLCA Invitation Men's 10 on the sporting J2/3 course (fine views of Jodrell Bank…), with a 24-51. The event was won by Alex Royle in a very quick 20-49. Full results: https://cyclingtimetrials.org.uk/race-results/17988#anchor
Shaftesbury CC (MM slower than 56-00) 25, 20th April
Steve Scott (Elmsall RC) rode the Shaftesbury CC (MM slower than 56-00) 25 on the E2/25, potentially a very fast course, but only in the right wind conditions, and on the day there was an unfavourable headwind after the turn. Steve opened his season in this event, with a 1-00-19. Fastest overall was Martin Canes in 52-36, with fastest female being Amy Pritchard in 54-37. Full results: https://cyclingtimetrials.org.uk/race-results/18067#anchor
Vive Le Velo's Spoco 25, 28th April
Ala and Andy Whitehead (Rockingham CC) rode Vive Le Velo's Spoco 25 on the V433, south of Bridlington. This event has a course profile like a sawblade, and on the day there was: "a tailwind out but a horrible cold headwind return". Ala did 1-24-03 and Andy 1-00-55. Fastest overall was Richard Sharp in 52-40, with fastest female Sarah Lewthwaite in 1-01-47. Full results: https://cyclingtimetrials.org.uk/race-results/19004#anchor
VTTA National Championship 10, 28th April
Hat's off to 2019 VTTA National Champion over 10 miles: Keith Ainsworth (Sheffrec CC)! The first VTTA championship of the season, won by one of the North Mids own, with a plus of 6-32. What a great result. Keith's early season preparations over sporting Lincolnshire Wolds courses paid off, as he describes: "on a gnarly sporting course in the Surrey Hills", in which his time of 21-07 meant that he was also 2nd fastest on actual time. Full results here: https://cyclingtimetrials.org.uk/race-results/19171#anchor, along with the winner of the women's competition, Angela Carpenter (a3crg), here: https://cyclingtimetrials.org.uk/articles/view/447