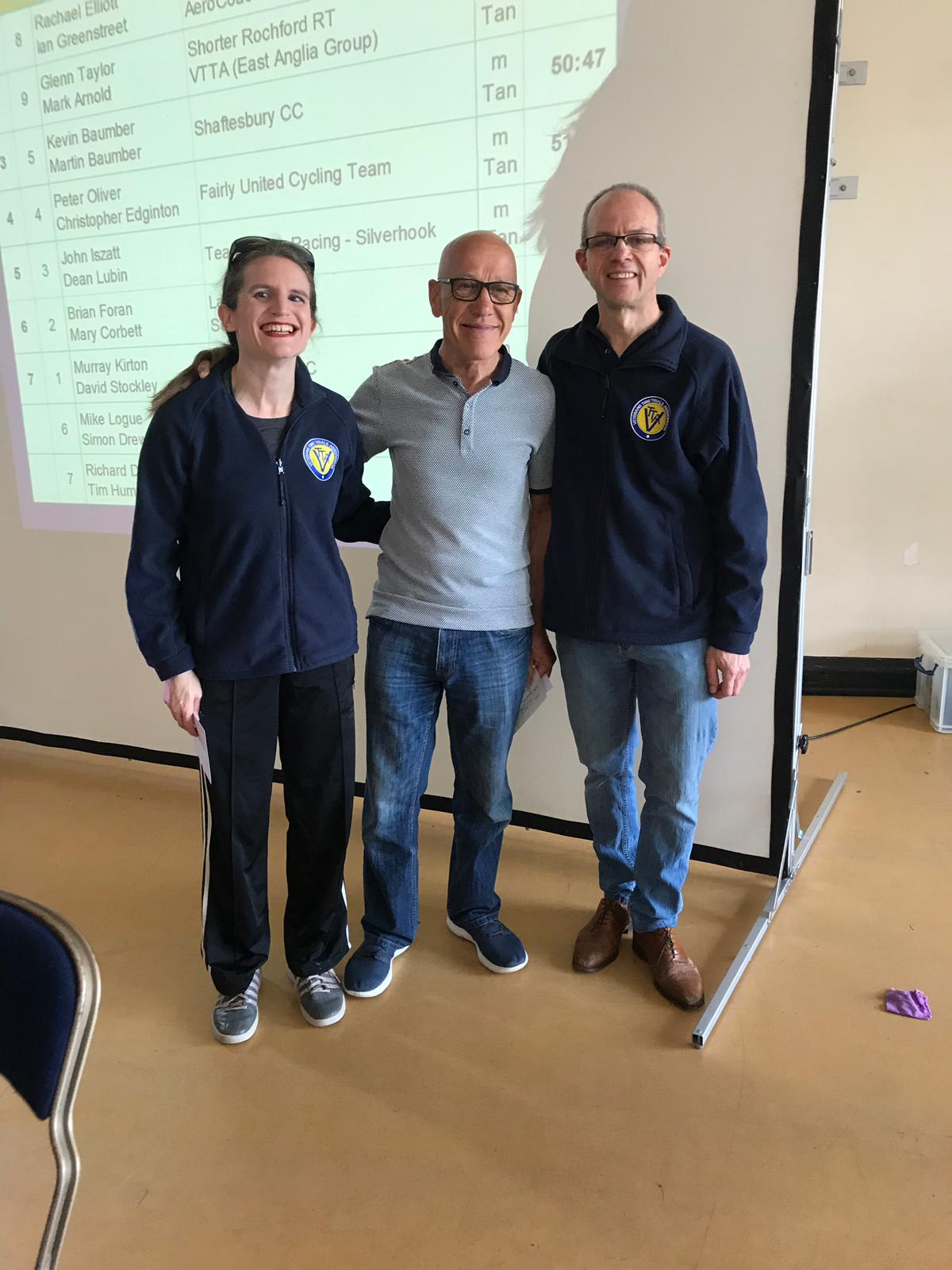 The new 2019 national champions at 25 miles are Kevin Tye and Angela Carpenter. Kevin took the men's title by 17 seconds on standard plus time from Keith Ainsworth with the evergreen Peter Horsnell in bronze medal position. For the women, Angela followed up on her 10 mile championship win with another gold medal. Jackie Field took silver and Deb Hutson-Lumb bronze.
In the tandem event the formidable new pairing of Ian Greenstreet and Rachael Elliott not only took the gold medal but also set a new national competition record for a mixed tandem at 25 miles in 47.09. They are shown above with John Golder the event organiser.
The local contingent did well with East Anglian taking the Group championship and Cambridge CC the club championship
Held on a breezy if bright and sunny Sunday morning, times were not the fastest but there were still a number of sub 50 minute rides with the fastest being James Rix in 48.07.
Thanks to John Golder and his team for excellent organisation of the championship.
Headline Results
Men Plus Women Plus
1st Kevin Tye +19.48 (actual 49.42) Angela Carpenter + 17.59 (actual 55.52)
2nd Keith Ainsworth + 19.31 Jackie Field + 17.24
3rd Peter Horsnell + 18.53 Deb Hutson-Lumb +14.58
Group Team champions are East Anglian (Peter Horsnell, Jackie Field, Andrew Grant) + 54.55
Club Team Champions are Cambridge CC (Andrew Grant, Chris Dyason, Martin Reynolds) + 52.15
Davey Jones took over 150 photos of riders in the event and these can be seen on the VTTA East Anglia facebook page