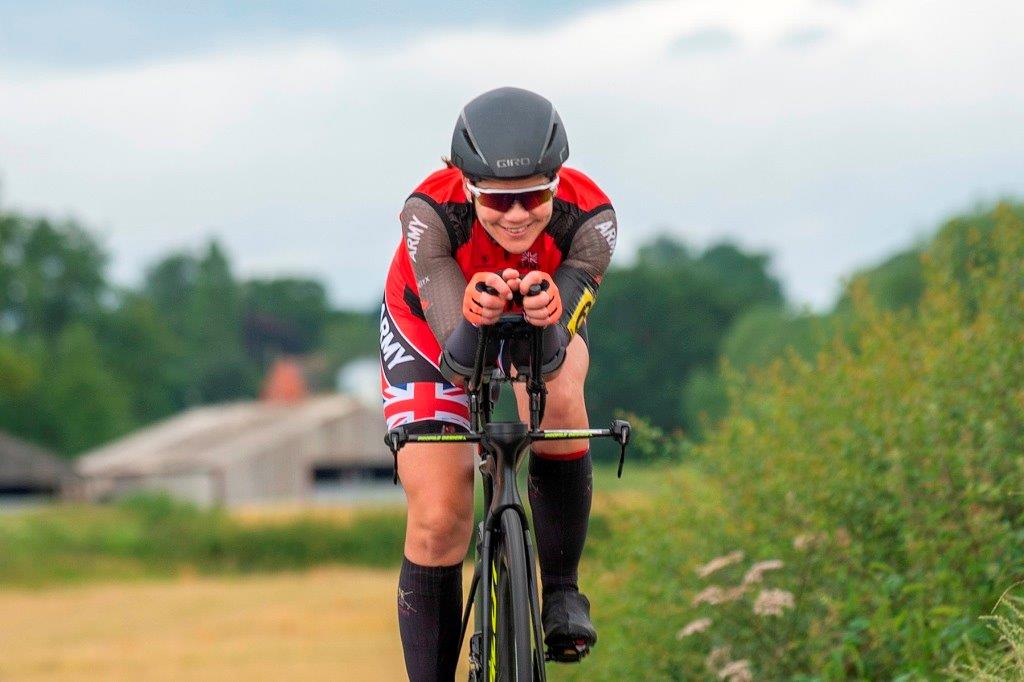 West Cheshire and North Shropshire basked under grey skies for most of the 24 hour championship, but with no rain and a pleasant warmth there were some some excellent performances both by the top riders and those further down the field.
A splendid win on standard sees the C. W. Cooke Cup go to Christina Murray of Army Cycling (picture above) with a distance of 478.42 mile and a plus of 142.62 miles. These are provisionally a CTT competition record, and a VTTA age record. This seems a good recommendation for the recent amendments to our standards tables - there was a margin of just 1.5 miles over top man Paul Jackson of Team Bottrill. The team award went to Kent with a hefty +316.97. They finished less than 2 miles ahead of Surrey/Sussex group. The Club Team champions are Dulwich Paragon, and the Tandem gold medals went to George Berwick and Phillip Jurczyk.
Congratulations to the award winners, well done to all riders and as usual many thanks to the organiser, Jon Williams and his band of helpers.
AWARD WINNERS - 2019 VTTA NATIONAL 24 HOUR TIME TRIAL CHAMPIONSHIPS
Men
1st Paul Jackson Team Bottrill Surrey/Sussex +141.12
2nd Doug Hart Ilkley CC Yorkshire +133.71
3rd Martin Brown 7Oaks Tri Club Kent +118.65
Women
1st Christina Murray Army Cycling Wessex +142.62
2nd Lynne Biddulph Born to Bike Midlands +91.32
3rd Rebecca Wilson Rye & Dist Whs Surrey/Sussex +89.58
Group Team Champions: Kent +316.97 (Martin Brown, Robert Bullyment, David Greenwood)
Club Team Champions: Dulwich Paragon CC +162.70 (Russell Kesley, Samuel Crossley, Hector Kidds)
Tandem Champions George Berwick and Phillip Jurczyk Scotland +61.10