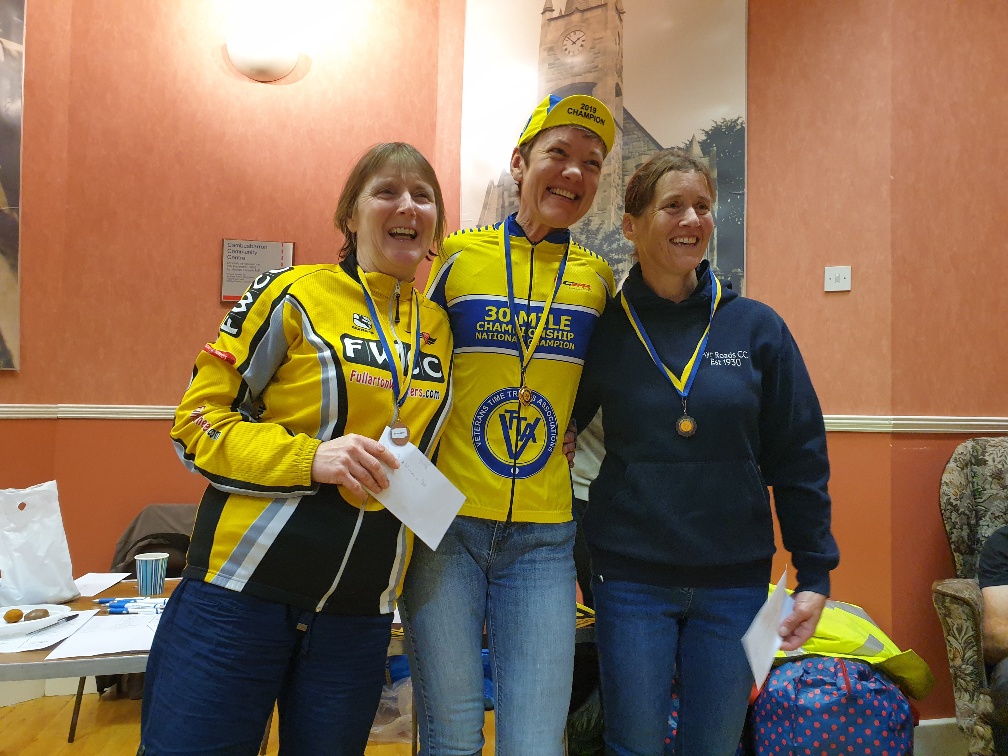 The Scotland VTTA Group hosted this year's 30 mile championship on the flat single carriageway WH30/2 course near Stirling. The previous day had seen heavy rain and strong winds. Fortunately, the Sunday morning dawned bright and clear although a stiff and chilly north westerly breeze made for less than ideal conditions. In the men's championship Gavin Hinxman and his trike took a second title to add to his win in this year's 100 mile championship. In silver medal position, with an outstanding actual time in the conditions of 1:00:34, was Douglas Watson with Steve Nutley taking the bronze medal.
The women's championship was won convincingly by Patricia Baird who afterwards promised to ride more VTTA championships next season. Catherine Logan took silver and Aileen Fisher the bronze medal.
Unsurprisingly Scottish VTTA members were out in force with the opportunity to ride a national championship on 'home' roads and Scotland Group took the Group Team award. Scotland VTTA (SVTTA) also functions as the first choice club for several members and they took the Club Team award. The Scottish pair of Isobel Fletcher and Alan McLean took the Tandem gold medal.
Thanks to the Scotland VTTA committee for organising this championship and to their timekeepers, marshals and other helpers.
VTTA on Std (Men) VTTA on Std (Women)
1st Gavin Hinxman (Trike) +21.47 1st Patricia Baird +14.26
2nd Douglas Watson +20.33 2nd Catherine Logan +10.14
3rd Steve Nutley +16.38 3rd Aileen Fisher +8.26
Club Team on Standard (3 Riders)
1st SVTTA –Neil Pendrich (+14.29), Derek McMillan (+14.17), Alex Munro (+10.15) Total +39.01
VTTA Group Team on Standard (3 Riders)
1st Scotland – Douglas Watson (+20.33), Steve Nutley (+16.38), Iain Elliot (+15.46) Total +52.57
1st Tandem on Standard
1st Isobel Fletcher/Alan McLean +6.40
Pictured are the women award winners.