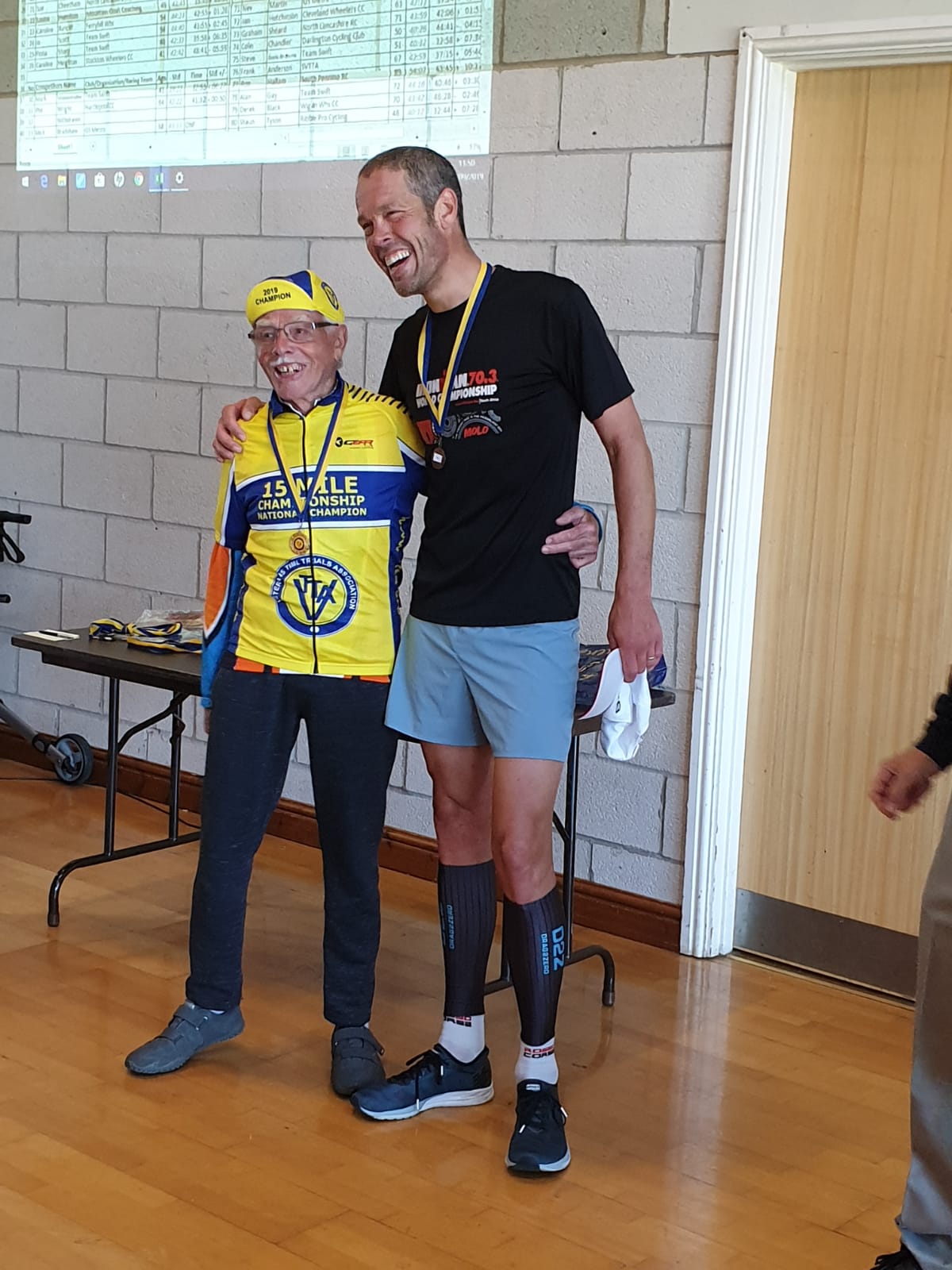 North Group hosted this year's 15 mile championship on the T154, which was the original A1 road south of Catterick. This now has a good surface but the undulations and the climb over the motorway made it quite a tough course even with bright sunshine on the day. In the men's championship Ron Hallam continued his collection of championship victories but only just, beating Keith Ainsworth by 8 seconds. Keith Murray took the bronze medal as well as leading North Group to the Group Team Prize.
The women's championship saw a win by Fiona Sharp of Team Swift and Yorkshire Group. Sue Cheetham took silver and Louise Hamilton bronze.
The tandem prize went to the Midlands team of Murray Kirton and Dave Stockley with GS Metro taking the club team prize.
Thanks to Gavin Russell for organising this championship and to his team of timekeepers, marshals and other helpers for making everything run smoothly on the day. Also thanks to Mike Penrice who presented the awards on behalf of the NEC.
Pictured are medallists Ron Hallam and Keith Murray demonstrating that size and height have no bearing on time trialling ability!
VTTA on Std (Men) VTTA on Std (Women)
1st Ron Hallam +10:22 1st Fiona Sharp +6.35
2nd Keith Ainsworth +10:14 2nd Sue Cheetham +4:30
3rd Keith Murray +8:12 3rd Louise Hamilton +3:59
Club Team on Standard (3 Riders)
1st GS Metro – Nev Martin, Ben Lane, Phil Kennell - +22.47
VTTA Group Team on Standard (3 Riders)
1st North Group – Keith Murray, Russ Richardson, Nev Martin - +24.07
1st Tandem on Standard
1st Murray Kirton/Dave Stockley