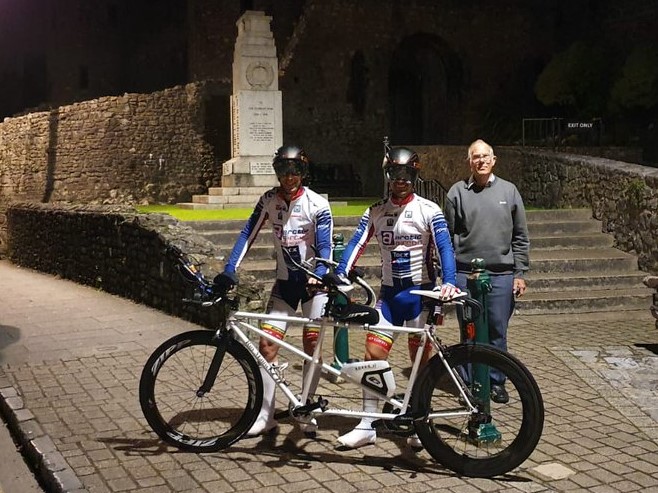 Starting with the usual proviso that, subject to ratification, Kent Vets tandem pairing of Tim Bayley & Adam Broyad achieved the RRA standard (but not a VTTA standard?) of 17h 30mins and as a result set the first Pembroke to Great Yarmouth Place-to-Pace Mens Tandem record. They achieved a time of approximately 14hr 20 mins for the 349.42 miles on Tuesday 8 October 2019.
Along the way, well on the A11 3.5 miles past Barton Mills, they broke the existing 12 hour (straight-out) record of 279.375 miles (B Wray & A Brooks) with approximately 293 miles.
I've come across this tandem pairing as in 2018 they set a VTTA National 12 hour record of 272.86 miles with an aggregate age of 86 years in the WCTTCA. Also I've recieved a claim for 100miles this year, again subject to ratification.
The writer and his tandem partner (Kev) when out on the day and cheered them through the many roundabouts of Milton Keynes.
The Side-to-Side route covers a surprising number of time Trialling courses starting in Wales and ending in Suffolk.