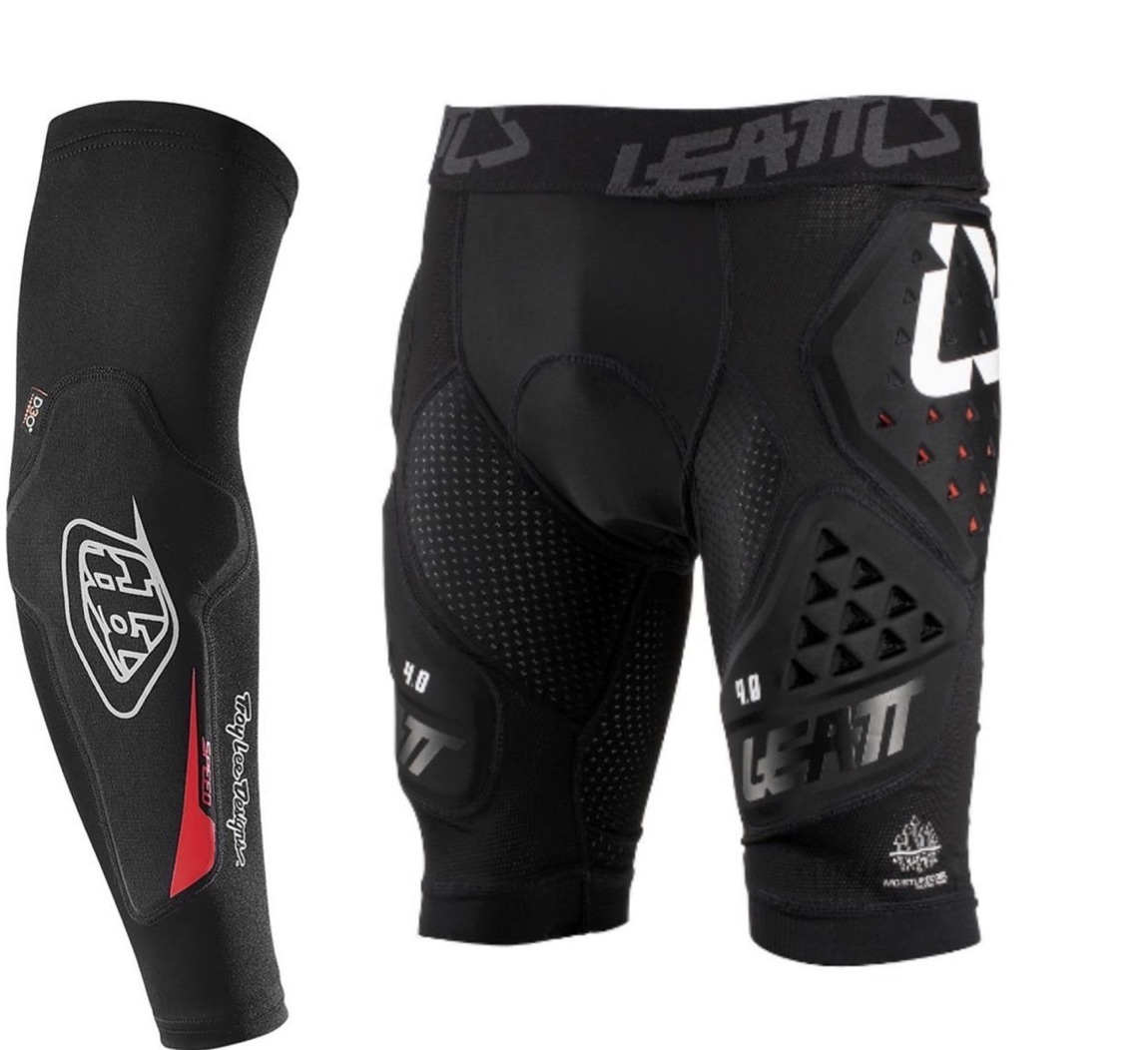 Over the past year three people I know have fallen off their road bikes and broken a hip.
A few weeks ago I was cycling home in the dark and got rear-ended at a roundabout - fortunately at relatively low speed without much damage to either bike or body.
Feeling extremely fortunate (yet again) to have escaped without breaking any bones, I felt it about time at my age to stop relying on luck and invest in some body armour.
Elbow guards used for MTB Downhill and motorcycling seem the best, but are a little too bulky for normal cycling; forearm guards with 4mm thick 3DO padding will fit under normal clothing though:-
https://www.tredz.co.uk/.Troy-Lee-Designs-Speed-Elbow-Sleeve_103730.htm
Size Small fit my twig arms fine and stay in place. However, they do get a little clammy so I pull them off during the day at work.

Impact undershorts come with varying degrees of protection, but 3DF foam padding at the hips seems desirable. Customer reviews of other makers' products seemed to point to Leatt as being one of the go-to manufacturers (these are made for motorcycle as well as bicycle use):-
Leatt 3DF 3.0 Impact Short (without chamois pad)
Leatt 3DF 4.0 Impact Short (with chamois pad)
Leatt 3DF 5.0 Impact Short (with high waist, extra pelvic crest and coccyx protection, but without chamois pad)
Sizing is on the small side - in these, Medium is OK on me (whereas I take Small size in Impsport clothing), and I bought the 4.0 version for wearing under shorts that don't have a pad:-
https://www.supermx.co.uk/leatt--3df-40-impact-short-11313-p.asp
I've also worn these under normal bib shorts with a pad and, for a 50 mile ride, sitting on two pads was fine.
The hip protection is 9mm 3DF dense memory foam that moulds itself plastically to the shape of your hips; the thigh protection is thinner 5mm expanded foam that protects against impacts such as the ends of straight handlebars when they swing round; the chamois pad is a good quality dual-density product; the overall impression is of being well made.
Perforations in the pads means these are OK for wearing all day long.
These shorts are a bit restrictive and tend to make me waddle slightly when cycling, but I've got used to it and done rides more than 3 hours in hill country. Anyhow they're a lot less restrictive than a broken hip!
Some of the restrictiveness arises from the thinner thigh pads having to slide beneath the thick hip pads as your thigh reaches the top when pedalling. Though the pads are feather edged, I found it helps to pull the leg grippers well up my thighs and get some vertical slack in the fabric.
As I've only once suffered a handlebar injury to a thigh (doored when riding home from school) I might sometime slit the pockets for the thigh pads and slide them out, in the interest of improved flexibility.
Elbow pads or arm guards also provide useful extra padding when on the tri bars :-)
Having worn these items every day for the past couple of months, by now I find little problem with keeping them on all the time - once you've got used to the slightly odd feel!