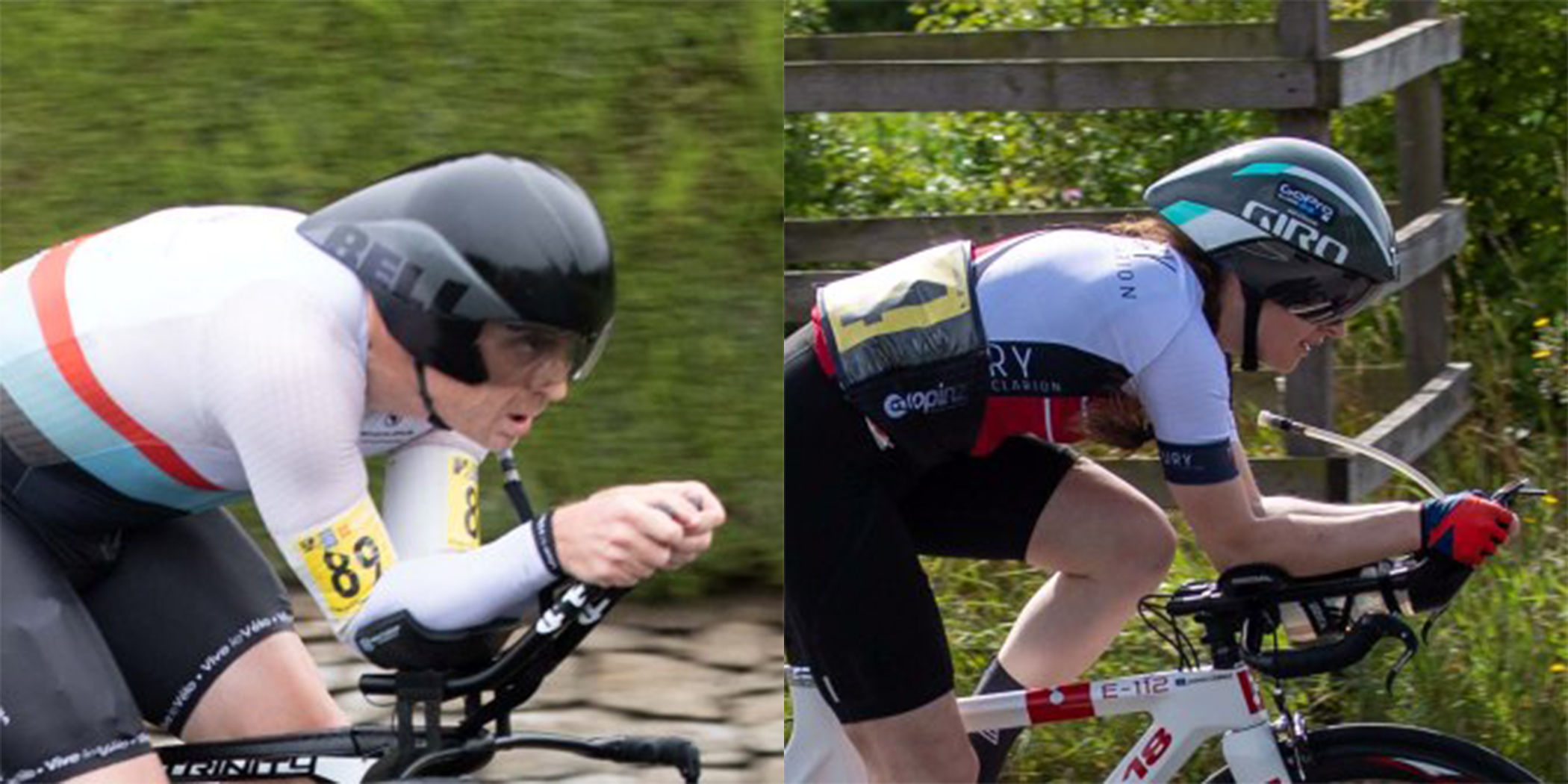 A running diversion through a field was not what riders were expecting, but this was part of the National 100 championship following a police road closure after a lunatic driver mowed down a Sunday cycling group putting two injured cyclists in hospital. The driver was detained and then arrested by the police.
The VTTA championship was incorporated into a very well organised and marshalled Tyneside Vagabonds 100 in in Northumberland. The open event was very well supported with 75 riders and attracted a good smattering of VTTA members both local and from Scotland, Yorkshire and further afield. Furthest travelled was probably National Chairman Andrew Simpkins.
Roads in that area are not the fastest and a fresh westerly breeze further hampered riders as they completed four laps of a rolling all single carriageway circuit. The road accident meant riders retired or were delayed, typically losing 3 minutes in their run through the field to bypass the road closure. All this added to the number of DNFs.
Congratulations to Joanna Cebrat who persevered to be the one VTTA female finisher and took the women's champions jersey. Yorkshire strongman Darren Yarwood came out top male vet by 8 minutes when his 3h 53m ride yielded +55:22. He also led the winning Yorkshire group team supported this time by Grant Whiteside and Jymmy Trevor
Thanks must go to event organiser Nick Wild and his team of Vagabonds. Whilst many VTTA entrants had a significant journey, promoting here should encourage more veterans from north of the Tyne to join the VTTA.
Here are the VTTA finishers.
Pos

Name

Club

Group

Gdr

Age

Actual

Plus

1

Darren Yarwood

Almerico Vive Le Velo

Yorks

M

46

03:53:52

+55:26

2

Philip Kennell

GS Metro

North

M

53

04:08:32

+47:24

3

Derek McMillan

SVTTA

Scot

M

60

04:23:06

+40:30

4

Grant Whiteside

Pontypool Road Cycling Club

Yorks

M

46

04:12:55

+36:23

5

Sean Quinn

Law Wheelers

Scot

M

47

04:13:55

+36:20

6

Andrew Simpkins

Team Echelon

Mids

M

66

04:37:42

+34:47

7

Neil Fearn

Harrogate Nova CC

North

M

40

04:11:57

+31:05

8

Bud Johnston

SVTTA

Scot

M

61

04:34:27

+30:27

9

Jez Willows

Sherwood CC

N&EM

M

55

04:28:11

+29:45

10

Jymmy Trevor

Hull Thursday RC

Yorks

M

48

04:23:59

+27:13

11

Roger Clarke

Tyneside Vagabonds CC

North

M

49

04:26:34

+25:34

12

Gary Simpson

Yorkshire Road Club

Yorks

M

52

04:30:49

+24:09

13

Nigel Briggs

South Pennine RC

N&EM

M

59

04:43:38

+18:45

14

Trevor Mayne

Birdwell Wheelers

NMids

M

57

04:47:01

+13:03

15

Joanna Cebrat

Bury Clarion CC

M&NW

F

41

04:57:36

+10:38

16

David Hilditch

Ribble Valley C&RC

NL&L

M

67

05:05:10

+9:07

17

Alan Davison

Tri Northumberland (Tri North)

North

M

57

04:51:38

+8:26

18

Brian Morrell

Dumfries CC

Scot

M

60

05:05:01

-1:25

Full results will appear in the September Veteran