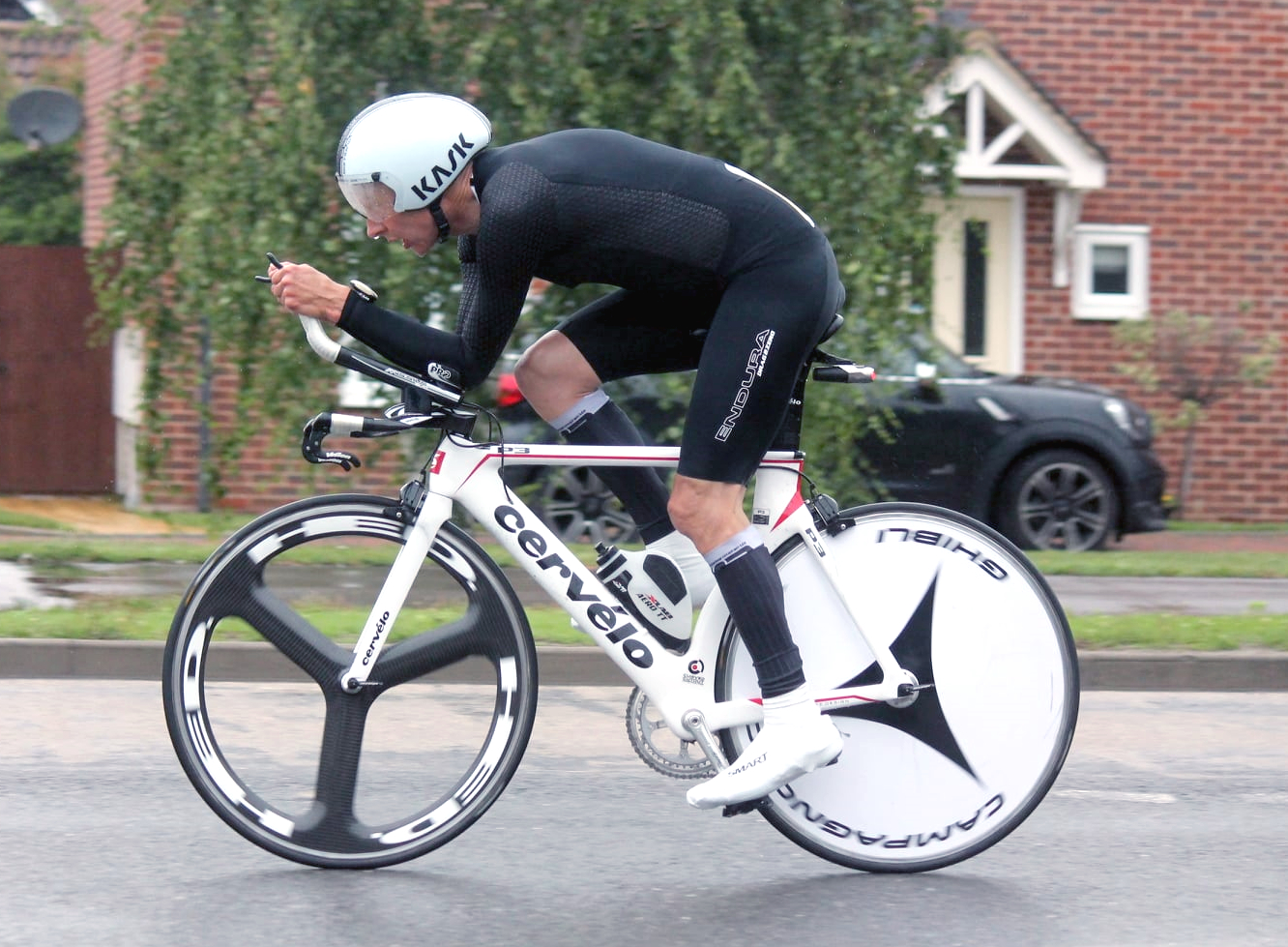 Pictured above, Chris Lea (Buxton CC) in a wet Shaftesbury 50.
March
It seems a long time ago now, but before any notion of lockdowns, there was time trialling in 2020. And some hardy riders from the North Mids were cranking out the miles in these early season events.
Andy Hicklin (Peak RC) rode the Kettering 20 on 1st March, followed by the Matlock CC Hilly on 7th March. Both events were raked by brutal winds, with riders on the exposed parts of the A515 in Matlock's event experiencing savage crosswinds. VTTA North Mids did well, 12th Trevor Mayne (Birdwell Whs), 10th Andy Hicklin, and 5th Steve Gibson (Peak RC). Full results: https://cyclingtimetrials.org.uk/race-results/19675#anchor
Ala and Andy Whitehead (Rockingham CC) raced their tandem to record 1-07-55 in the Sheffrec CC 25 on the O25/11, on 7th March. In the 2-up 25 promoted that day by the Sheffrec CC, Daryl May (Sheffrec CC) was partnered by his club mate Adam MacHan, finishing in 58-35. Alan Wailoo (7 Hills Cycling Club) and Euan Adams were next fastest, with 1-00-47. Fastest overall was the pairing of Sebastian Garry and Michael Gill, in a superb 51-10, both of AeroLab Ward WheelZ. The fastest female team was Madeline Moore and Eleanor Williams, in 1-04-03, who pipped the paring of Dominic Watts (Veloviewer) and Eamonn Cox by one minute and 20 seconds. Full results: https://cyclingtimetrials.org.uk/race-results/19890#anchor and https://cyclingtimetrials.org.uk/race-results/19891#anchor
Andy Clark (Rutland CC) was almost two minutes faster in the cold March winds of the Team Sportslab 10 (V7115) than the previous weekend's Leicestershire RC 10 (A10/13): at that rate of progression he'd have equalled comp record by 18th April, but now we'll never know for sure….Full results: https://cyclingtimetrials.org.uk/race-results/20359#anchor and https://cyclingtimetrials.org.uk/race-results/19677#anchor
Richard Gray (Norton Whs) rode the Yorkshire Cycling Federation 10 (V910) on the 15th March, which was the last day of racing this year (so far, who knows….), recording 27-52. Full results: https://cyclingtimetrials.org.uk/race-results/20361
July
Week ending 19th July:
Finally! Back to racing. With the Shaftesbury CC 50 on the 19th July . A cold and wet one, but with the wind not too bad and from the right direction (for the E2/50c course, from the NNW). It was a difficult event to get in, with almost 160 entries. But the forecast wet conditions and the very real prospect of cancellation meant that there were only 84 starters. Those did ride found that the rain was not as heavy as forecast and, with very light traffic, road spray wasn't a problem, although these were far from summer conditions, with the temperature just nudging 14C at best. Nevertheless, the event was very well organized and the COVID-19 mitigation measures were impeccable.
Keith Ainsworth (Sheffrec CC) reached the 25 mile point in a rapid 53-10, then turned-on the speed some more for a superb 51-17 2nd 25, to finish in 1-44-27. Chris Lea (Buxton CC) did 1-53-46, being reasonably content all things considered. Anna Turvey (Drag2Zero) was fastest woman in a really impressive 1-46-28, being some two minutes faster over the 2nd half of the course. Adam Wild (GS Metro) was fastest overall, covering the opening 25 miles in 48-27 and then doing a scarcely-believable 46-01 for the 2nd 25, to finish in 1-34-28 at an average speed of 31.8 mph. Wow. Full results: https://cyclingtimetrials.org.uk/race-results/21036#anchor and race report: https://cyclingtimetrials.org.uk/race-report/21036#anchor
Week ending 26th July:
The big race was the VTTA National 50 Championships on Sunday morning, on the wind-exposed A46 southwest of Newark, essentially covering two laps of the well-known A25/34 course. And the wind blew really hard. Mat Ivings (Buxton CC) reported that his average speed against the headwind to the southerly turn only just nudged 23 mph, whereas he covered the return tailwind-assisted leg at an average of well over 32 mph. Warp speed was attained on the descent of the hill at Bingham.
Returning to the 'top of the podium', a position familiar from his 2019 exploits, was the North Midlands Keith Ainsworth (Sheffrec CC). Superb riding saw Keith cover the distance in 1-49-13 for a plus of 35-17, more than a minute faster on standard than the legendary Matt Bottrill. What a ride Keith, what a ride!
There was a good turnout from the North Midlands and some other great rides in the tough conditions. Mat Ivings doing 1-50-19 (+27-55), Shawn Gough (Tuxford Clarion CC) 1-53-20 (+24-54), Andy Newham (Lincoln Whs) 1-58-09 (+20-05), Daryl May (Sheffrec CC) 1-59-29 (+18-20), Rob Barnard (Team Cystic Fibrosis) 2-00-02 (+18-36), Martin Bullen (Peterborough CC) 2-13-06 (+16-08), Ala Whitehead (Rockingham CC) 2-53-52 (-24-19).
Fastest overall, in a scarcely believable 1-34-11, was John Archibald. Stunning. Fastest woman was Emily Meakin, who I should point out beat all of the North Midlands men, recording 1-48-25. Fastest woman on standard was Sue Cheetham in 2-14-23 for a plus of 20-17. Headline results on standard are here: https://www.vtta.org.uk/news/397-national-50-mile-championship-headline-result and the full results: https://cyclingtimetrials.org.uk/race-results/19708#anchor