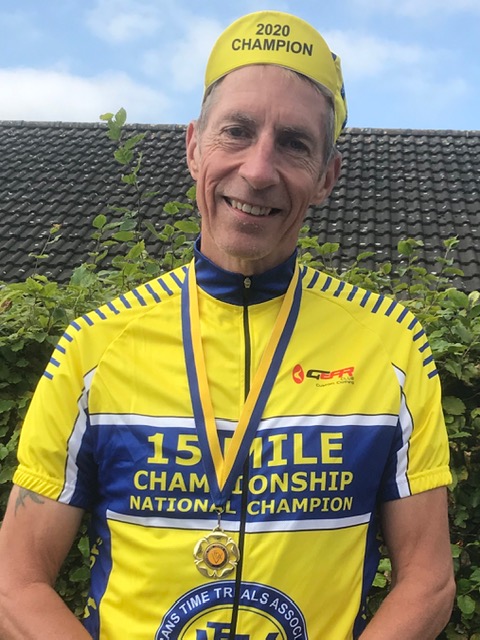 Picture above, Keith Ainsworth (Sheffrec CC).
Week ending 6th September:
There was a return to the O10/1 on this Saturday for several vets from the North Midlands, in the Common Lane Occasionals 10. On CTT's website the O10/1 has a saw-tooth course profile that at first glance gives the impression of a mountain stage made for Columbian climbers past and present. The reality is somewhat different. Scale is all important. Ala and Andy Whitehead (Rockingham CC) again rode their tandem and finished in a time of 24-31. In the main event, Keith Ainsworth (Sheffrec CC) once more took 5th place overall, going a little quicker than the previous week in recording 20-49. Stuart Wells (Lindsey Roads CC) did 21-34, a shade slower than in the Rutland CC/VTTANM event, whereas Allan Wailoo (7 Hills CC) was substantially quicker with 22-41 compared to his previous week's 23-23. This was how it went, some a little quicker this week, some much more so, some a little slower. Paul Mapletoft (Kiveton Park CC) recorded 23-23, Mike Allen (Team Jewson) 23-50, Gary Clarke (Rutland CC) 26-07, Ben Hamilton (Rutland CC) 26-25 and Michael Weaver (Rotherham Whs) 26-53. Meanwhile, Zoe Hibbard turned the tables on Gary Hibbard, both of the Bolsover and District CC, crossing the line in 28-08 compared to Gary's 28-27. Fastest overall was Simon Wilson with a 31+mph ride, in 19-12. Dame Sarah Storey was fastest woman, in 21-57, for 12th place overall. Full results: https://cyclingtimetrials.org.uk/race-results/19936#anchor
In the Sunday morning's Ratae RC 10 on the A10/13, using the A46 north east of Leicester, Stuart Wells (Lindsey RC) went sub-21, in 20-52. Steve Gibson and Andy Hicklin, both of the Peak RC, rode to 21-36 and 22-02, respectively. Gary Kondor (Sherwood CC) recorded 25-36 in his first open event this season. Keri Parton was fastest woman in 23-53 with fastest overall being junior rider Joshua Giddings in 19-32. Full results: https://cyclingtimetrials.org.uk/race-results/19717#anchor
Andy Newham (Lincoln Whs) has been doing some cracking rides on his trike, with 23-17 in the Icknield RC 10 on the F11/10 on the Saturday, followed by the Stowmarket and District CC 10 the following morning on the B10/38 in which he recorded 23-21. Andy's 23-17 is a Group Age Record on a trike, at age 47.
In the Common Lane Occasionals 10 on the Saturday, Dominic Watts (Veloviewer) did a rapid 23-59 and was fastest vet over 50 on a road bike. Also, in that event, Sarah Storey's 21-57 was a women's course record.
Towards the other end of the distance scale, Mat Ivings and Chris Lea, both Buxton CC, rode Saturday afternoon's BDCA 100, held on the A50 between Etwall and the new JCB turn just west of Uttoxeter. Despite the frankly ridiculously rapid times set by the big hitters – not least Adam Wild of the GS Metro recording 3-17-01 (30.5 mph) for the win – conditions were tough, with a fresh westerly making for a three tooth difference out and back. Mat did 3-41-31 whilst Chris had a jours sans and finished in 4-05-16. Fastest woman was Jackie Field in 3-59-37. Full results: https://cyclingtimetrials.org.uk/race-results/19716#anchor
Week ending: 13th September:
On the Saturday, Keith Ainsworth (Sheffrec CC) returned to the podium in the VTTA National 10 Championships. Recording 21-10, a fast time on a very undulating course (the H10/3A at Newbury) with a fresh westerly wind hampering the return to the timekeeper, Keith took 3rd spot in the Championships with a plus of +6-43. Another medal! Overall winner on scratch and standard was Richard Oakes, with a stunning 19-49 (+7-05), a time which has apparently only been bettered on this course by Michael Hutchinson at the peak of his powers, when he won the National 10 Championships with 19-34, in 2009. Full results: https://www.cyclingtimetrials.org.uk/race-results/20750#anchor Next up for Keith, the 15 Champs this coming weekend, with Matt Bottrill the man to beat. In the women's event, Angela Carpenter took a convincing win on scratch and standard, with 22-57 and +6-14. Full results: https://www.cyclingtimetrials.org.uk/race-results/21262#anchor
Also at 10 miles, Harrogate Nova CC promoted their event on the Saturday afternoon, on the V212, south of Boroughbridge. Several of the North Mids vets rode, the quickest being Steve Gibson (Peak RC) with 21-52 for fastest vet over 50, followed by Andy Hicklin (Peak RC) in 22-30, Paul Mapletoft (Kiveton Park CC) 23-45, Richard Walker (VTTA NM) 24-29, Paul Ruta (Barnsley RC) 26-29, and Richard Gray (Norton Whs) 27-14. Fastest overall was Adam Duggleby, who set a new course record with 19-31. Also setting a course record was Brit Tate, fastest woman, with 23-15. Full results: https://www.cyclingtimetrials.org.uk/race-results/20429#anchor In the tandem competition, Ala and Andy Whitehead of the Rockingham CC took top honours in 24-45: https://www.cyclingtimetrials.org.uk/race-results/20430#anchor
At 25 miles, Cambridge CC promoted their event on the Sunday morning on the well-surfaced F2A/25 course which is based around two laps of the A428 dual carriageway to the west of the city. The VTTA North Mids was represented by Stuart Wells (Lindsey Roads CC), Andy Newham (Lincoln Whs) and Martin Bullen (Peterborough CC), recording 51-33, 54-00, and 1-01-22, respectively. Many riders complained of a brisk westerly wind, but it must be a course that suits some better than others as 23 riders did 30+ mph rides. Most rapid was Ashley Cox in 46-25, whilst Hayley Simmonds just pipped Stuart Wells with her 51-28. With the top riders on such good form, the National 25 mile Championships, on 27th September, are going to be very interesting indeed. I note that Bigham, Dowsett, Archibald and Fennell are the last four riders in the men's event, whilst Hayley Simmonds goes head to head with a brace of riders from the The Independent Pedaler Nopinz team. Full results from the Cambridge CC 25: https://www.cyclingtimetrials.org.uk/race-results/20622#anchor
Riding the ECCA 10 on the E2/10 the previous day, Martin Bullen (Peterborough CC) again found himself battling a brisk headwind to the turn, finishing in 24-20. Only one rider got under 20 minutes – Simon Norman with 19-52. Full results: https://www.cyclingtimetrials.org.uk/race-results/21060#anchor
The longest distance raced this weekend was the 50 miles of the CTT Midland DC event, with Buxton CC's Miles Haslam covering the course in 2-17-02. The event used the rather complicated K10/50 course near Rugby, a mix of A and B-road single and dual carriageway, with many turns and roundabouts to be negotiated. Incredibly, the winner, Jason Bouttell was almost 10 minutes faster than the 2nd placed rider, finishing in a blistering 1-39-56. Fastest woman was Michelle Lee, just outside 2 hours, in 2-00-01. Full results: https://www.cyclingtimetrials.org.uk/race-results/19787#anchor
Week ending: 20th September:
A weekend of warm, dry, but windy conditions for racing. It could have been cold and wet, so was the glass half full or half emptied by the wind that blew yet again? We should just be grateful that we were able to race. And the weather had been very good of late, really, just not the perfect float conditions that we'd like for time trialling. But when are we ever satisfied with the conditions? Rarely! To the racing:
Following his win in the VTTA National 50 Championships and 3rd place in last weekend's 10 Championships, Keith Ainsworth (Sheffrec CC) returned to the top step of the podium in emphatic style by winning the VTTA National 15 Championships on the Saturday by over a minute from 2nd-placed rider Mark Holton. Keith's plus of +10-01 and actual time of 31-50 was also good enough for 6th place on scratch, at an average speed of 28.6mph on a rolling single-carriageway Shropshire course with a stiff headwind to the turn. In the women's event, Deb Lumb was fastest on standard, with a plus of 8-34 and an actual time of 35-58. In the tandem event, Rachael Elliott and Ian Greenstreet recorded a 30+ mph ride for the win, but Andy Newham (Lincoln Whs) and clubmate Ian Pike took second spot on a tandem trike in 35-04. A more detailed report can be found here: https://www.vtta.org.uk/news/405-vtta-national-10-championship-results
Saturday afternoon's VTTA (Yorkshire) 10 on the V714, between Gilberdyke and Howden, was a race of two halves, with a tailwind assisted blast to the Howden turn followed by a headwind grovel to the finish. Steve Gibson (Peak RC) was well up the leader board with 21-47, for 7th place. Club mate Andy Hicklin was not too far behind, in 22-28. This was a popular event for the North Mids, Paul Mapletoft (Kiveton Park CC) did 23-11, Mike Allen (Team Jewson) 24-39, Steve Scott (Elmsall RC) 25-10, Paul Ruta (Barnsley RC) 25-58, Miles Haslam (Buxton CC) 25-59, Paul Heggie (Birdwell Whs) 26-28, Ben Hamilton (Rutland CC) 27-08, Michael Weaver (Rotherham Whs CC) 28-03, Bolsover & District CC riders Zoe Hibbard just pipping Gary Hibbard with 28-28 to 28-46, and Paddy Giblin (Rotherham Whs CC) finishing in 28-56. Ala and Andy Whitehead (Rockingham CC) were the only tandem, recording 24-37. Overall, Abi Smith was fastest female, with a superb 22-29, and still a junior. Quickest was Richard Dean in 20-44. Full results: https://www.cyclingtimetrials.org.uk/race-results/20431#anchor
Also, on Saturday, two Buxton CC riders competed in the Stretford Whs 25 on the J2/9 course in Cheshire. This uses a triangle of A-roads between Knutsford, Holmes Chapel and Chelford Island, has a few sharp ups and downs, plenty of left turns, a bit of smooth and a lot of rough surface, pedestrian lights, sometimes cows on their way to milking (the farmer is very good, usually halting the herd when a rider approaches). Not a fast course and it was windy, again. Nevertheless, Mat Ivings (Buxton CC) was 10th in 54-18, an average speed closer to 28 mph than 27mph. Dame Sarah Storey was also just over 27 mph, with a cracking time of 55-31, being fastest woman. Andrew Stokes (Buxton CC), recently a member of the VTTA North Mids, had a solid ride to finish under the hour in 59-49. At the top of the leader board, an in-form Simon Wilson did a stunning time, breaking the course record, with 48-49. Full results: https://www.cyclingtimetrials.org.uk/race-results/19582#anchor
On the Sunday morning, Martin Bullen (Peterborough CC) and Chris Lea (Buxton CC) rode the ECCA 25 on the A11 southwest of Norwich, on the B25/8. Again, a battle against the headwind to the turn at 13 miles, followed by what was for me a 5 mph faster return on the shorter 12 mile leg. Chris did 56-56 whilst Martin believes he finished in 1-01-18 although the timekeepers have him two minutes faster. In-form Kyle Gordon was over two minutes faster than an also in-form Alex Royle, recording an incredible 46-22. Jennifer Millmore was fastest woman with a rapid 54-39, 2-19 quicker than 2nd placed 2018 Vets BBAR Jackie Field. Full results: https://www.cyclingtimetrials.org.uk/race-results/19877#anchor
Trevor Mayne (Birdwell Whs) rode in his own club's open hill climb on the Well Hill, Green Moor course near Stocksbridge on Sunday, recording 3-20.2. On a warm September evening with a helpful light tailwind times were faster than usual. The course record fell to Andy Nichols with 2-14.3. Fastest female was junior rider Lucy Ellmore, in 2-59.9. Full results: https://www.cyclingtimetrials.org.uk/race-results/19942#anchor
Week ending: 27th September:
The National 25 Championships took place on a dry but cold and windy Sunday morning. Held on the A25/37, over a lumpy section of the A46 dual carriageway north of Leicester, this event attracted a stellar field in the women's and men's events. If takes a bit of bottle to enter when you know that your time will be blown away by world class riders, of the likes of Alex Dowsett, not to mention some of the fastest team pursuiters around, such as Dan Bigham and John Archibald, with last year's winner Chris Fennell also competing, and the women's field containing the defending champion Emily Meakin and last season's 10 mile and hill climb champion, Joss Lowden. Well done to the duo from the Peak RC, Steve Gibson and Andy Hicklin, who rode 56-01 and 56-51, respectively, and to Andy Newham (Lincoln Whs) with 56-50. Despite the tough conditions the top riders showed their class, with Dowsett recording 45-58 (apparently finishing on a near-flat rear tyre), Fennell 45-46 (remember when Chris Boardman held comp record, with 45-57, which stood for 16 years?), Bigham 45-40 and Archibald……..44-50! In the women's event, Joss Lowden's 52-14 was too good for Emily Meakin's 52-55: both being superb times. Full results: https://www.cyclingtimetrials.org.uk/race-results/21105#anchor and https://www.cyclingtimetrials.org.uk/race-results/21106#anchor