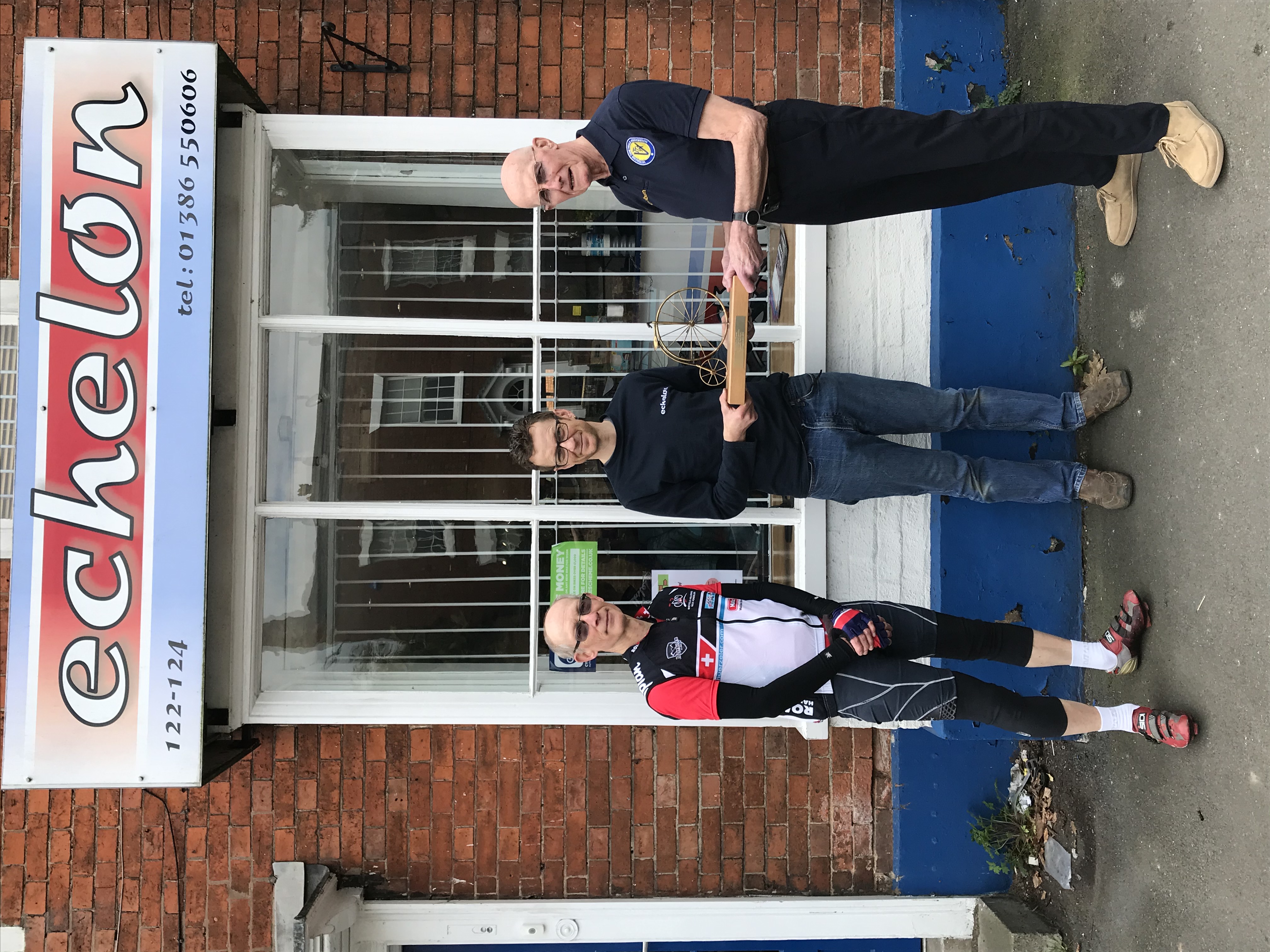 Photo above - Because of Covid-19 restrictions there was no presentation after the event Mike and Alan so asked Tim Wood to accept the Trophy on behalf of the VTTA winning team.
This year's winner of the BMCR/VTTA Welland Trophy competition (based on the best 8 results on Vets Standard from each organisation) was the VTTA. Since the first event in 2015, the VTTA has had only one victory - until now ! 2021 saw the eight members of the Association team combine well to take the trophy on Standard by a margin of 5 min.
Congratulations to all the prize winners, particularly to Ben Healy -Espoir (Team Huub) the fastest rider on the day, with a time which was a staggering 4 minutes faster than everyone else, and proved to be faster than the National Championship 15 the following day !
Of the Vets Catherine Coley (VC de Londres) and Jon Howard (Team Echelon) were fastest on standard and Jessica Rhodes-Jones (Aerocoach) fastest female on scratch.
Top 10 results on Standard and Scratch times are shown below plus a list of prize winners in each category. The prize list was spread over Fastest Men, Fastest Women, Vet. on Standard, Fastest Junior, Road Bike on Standard, Fastest Trike and Team of eight on Standard and totalled £400. Thanks to the event sponsor Echelon Cycles who provides some of the prizes for todays event
Here is a LINK to the official results page
Mike and I were pleased to be able to promote this event as soon as Covid-19 protocol was lifted a little but it does produce some time-consuming elements - trying to keep competitors on a one-way system at the HQ was a bit like herding cats but all in good humour ! The weather forecast was chilly with possibility of showers with early starters having a reasonably dry ride but then we had the hailstones followed by showers which morphed into steady rain which then degenerated into a miserably icy cold bath !! In those conditions all the riders deserved praise for their determination but Ben's ride was outstanding. Many congratulations to all the riders and also to our stoic marshals and time keepers so thanks to Charlie, Susan, Margaret, Keith, Mick, Dave, Bob, Jacqui, Steve and Phil.
Here is a link to Photos taken on the day - Thanks to Stuart Day for sharing these
We hope this is the start of a very successful 2021 racing season for you all
Alan Colburn
VTTA results

Scrath results
| | | | | | | | |
| --- | --- | --- | --- | --- | --- | --- | --- |
| 1 | | | 29:29 | Ben | Healy | Male | Team HUUB |
| 2 | | | 33:38 | B Xavier | Disley | Male | AeroCoach |
| 3 | | | 33:42 | Tim | Wood | Male | Team Echelon |
| 4 | | | 33:48 | Simon | Adcook | Male | Worcester St. Johns CC |
| 5 | | | 34:04 | Jon | Howard | Male | Team Echelon |
| 6 | | | 34:23 | Oliver | Hayward | Male | Holohan Coaching Race Team |
| 7 | | | 35:03 | Jack | Wilson | Male | Ludlow Brewery Race Team |
| 8 | | | 35:10 | Scott | Povey | Male | Warwickshire Road Club |
| 9 | | | 35:11 | Rikky | Hughes | Male | Worcester St. Johns CC |
| 10 | | | 35:24 | David | Finn | Male | Cheltenham & County Cycling Club |
Prize Winners