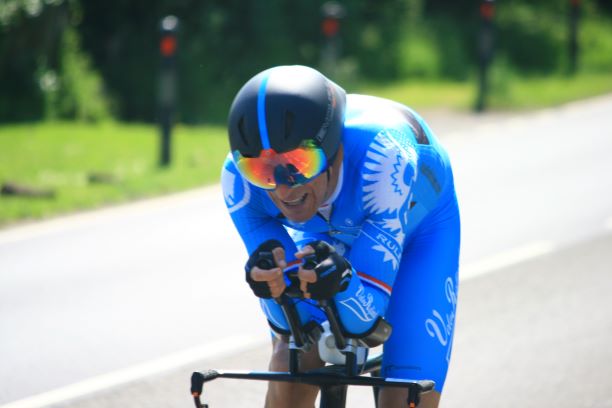 The 6.00am start on the 6th June started chilly but the sun was shining and it soon warmed up. Riders familiar with the course said it was not the fastest of days with high pressure and a breeze that seemed to veer around during the event. After the initial 15 mile leg up to Ashford and back to the HQ area there were four laps of a very flat circuit around the Romney Marshes. Hardly a dual carriageway in sight but a flat course that can produce surprisingly fast times.
Covid restrictions meant there were no refreshments, result board or presentations at the end but it was possible to make a provisional assessment of the men's and women's champions. Jackie Field (East Anglian) with an outstanding time of 4:05:39 was delighted to win her first National Championship jersey after her strong performances in the season long competitions in recent years. The silver and bronze medals went to Fiona Sharp (Yorkshire) and Joanna Cebrat (Manchester & NW) respectively.
Andrew Meilak (Kent Group) has ridden this event over the last 25 years, so familiarity with the course may have helped him turn in his winning performance on the day. His actual time of 3:39:09 was just one second faster than Darren Yarwood but Andrew' seven extra years gave him a clear win on standard with Darren taking the silver medal. Another strong contender, David Shepherd (Wessex Group) unfortunately suffered a puncture, but his time was still good enough for 3rd place.
The Group team prize was won by East Anglian with Jackie Field, Iain Boardman and Paul Looke. There were 26 VTTA starters all of whom deserve congratulations for tackling the 100 mile championship. It is no mean achievement to race 100 miles whatever time you achieve on the day.
The event was organised by Kent Cycling Association and we are grateful to Peter Hayes and his team of helpers for hosting our championship and providing a very well run event on the day with good marshalling and signage keeping everyone on course.
Pictured above is Andrew Meilak courtesy of Glen Whittington.
Result of VTTA 100 Mile Championship - 6th June 2021

Pos

No

Name

Club

VTTA group

Age

VTTA Std

Actual

Plus

Men's Championship Result

1

Andrew Meilak

VeloRefined Rule 5

Kent

54

04:53:34

03:39:09

01:14:25

2

Darren Yarwood

Chapeau! Vive Le Velo

Yorkshire

47

04:46:02

03:39:10

01:06:52

3

David Shepherd

...a3crg

Wessex

60

05:01:43

03:56:58

01:04:45

4

Andy Critchlow

Norwood Paragon CC

Surrey/Sussex

47

04:46:02

03:42:19

01:03:43

5

Jon Woolrich

Velo Sport Jersey

Wessex

40

04:39:47

03:40:09

00:59:38

6

Kevin Baumber

Shaftesbury CC

East Anglian

47

04:46:02

03:46:50

00:59:12

7

Roger Sheridan

North Devon Wheelers

West

60

05:01:43

04:02:39

00:59:04

8

Paul Winchcombe

Chippenham & District

West

61

05:03:17

04:06:08

00:57:09

9

Iain Boardman

Dulwich Paragon CC

East Anglian

47

04:46:02

03:55:18

00:50:44

10

Sean Quinn

Law Wheelers

Scotland

48

04:47:01

03:59:39

00:47:22

11

Andrew Simpkins

Team Echelon

Midlands

67

05:14:15

04:27:43

00:46:32

12

Ian Pike

Lincoln Wheelers

Notts & E Mids

53

05:14:01

04:28:58

00:45:03

13

Jon Fairclough

Woking Cycle Club

Surrey/Sussex

67

05:14:15

04:34:46

00:39:29

14

Simon Bowller

Berkhamsted Cycling Club

LH&C

58

04:58:47

04:23:46

00:35:01

15

David Greenwood

Rye & District Wheelers CC

Kent

56

04:56:05

04:23:52

00:32:13

16

Paul Looke

Shaftesbury CC

East Anglian

54

04:53:34

04:23:11

00:30:23

17

John Marinko

Brighton Mitre CC

Surrey/Sussex

56

04:56:05

04:26:54

00:29:11

18

Richard Tully

Elite Cycling

East Anglian

44

04:43:15

04:27:29

00:15:46

19

Colin Ashcroft

West Kent RC

Kent

59

05:00:14

04:45:48

00:14:26

20

Robert Royle-Evatt

Addiscombe CC

Surrey/Sussex

53

04:52:23

04:50:14

00:02:09

DNS: Neil Harrigan Gemini BC), Alan Grant (VTTA LH&C) , Randle Shenton (Legato Racing Team)

DNF: Martin Brown (7Oaks Tri Club), Mark Jones (Bury Clarion CC)

Women's Championship Result

1

Jackie Field

CC Ashwell

East Anglian

56

05:24:23

04:05:39

01:18:44

2

Fiona Sharp

Chapeau! Vive Le Velo

Yorkshire

42

05:07:59

04:07:06

01:00:53

3

Joanna Cebrat

Bury Clarion CC

Man'r & NW

42

05:07:59

04:14:37

00:53:22

4

Emma Bexson

Stratford Cycling Club

Midlands

46

05:12:02

04:20:51

00:51:11