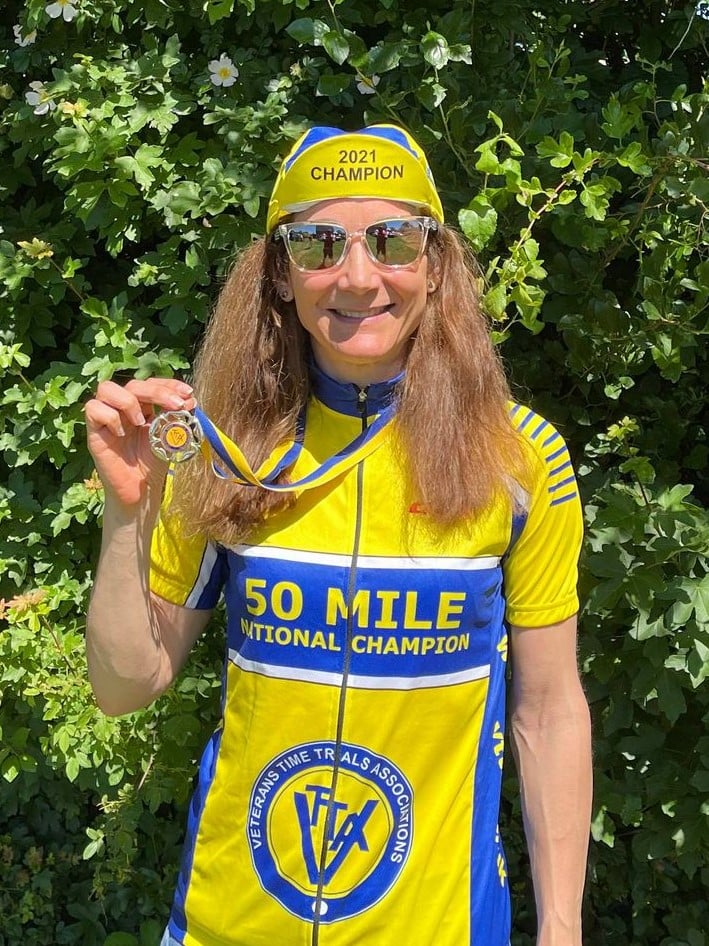 Angela Carpenter (...a3crg) put in one of the best rides of all time to win the VTTA 50 Mile Championship on the F2/50 course at Cambourne in Cambridgeshire, whilst Andrew Grant (Cambridge CC) took the honours in the men's event.
Race organiser Chris Dyason (Cambridge CC) had gone to huge effort to make sure the traditional "Viking 50" event could still be held as well as the VTTA 50 mile championships. With the E2 currently out of action, the 50 course is now one of the country's fastest and Chris was not short of entries: 180 riders took on the four laps of the F2 course with its mild undulations providing enough variety to make the course interesting, but not so much that fast speeds were ever a problem.
With Cambridgeshire witnessing on of its hottest days of the year, the mercury started to climb from 8am with riders throughout the field battling with the heat.
Nevertheless, despite the hot conditions, the East of England can proudly say today it witnessed one of the best time trial rides ever. Angela Carpenter (...a3crg/Wessex Group) regularly takes the crown in VTTA championships, but her ride today was on another level. Despite her computer getting sunstroke and misreading at 25 miles (where she admitted to "nearly stopping with frustration" - but realised that was a stupid idea when she saw she was churning out >28mph with ease). Her scratch time of 1:46:34 earns her the sixth fastest time ever by a woman over the distance (faster than the legendary Julia Shaw) and, unsurprisingly, was an age record. Her standard of +46:20 was enough to take the best time on standard in the event by nearly four minutes. As a result of her overall best, she also takes home the Cecil Paget cup for a year.
Jackie Field (CC Ashwell/East Anglia Group) took the silver medal in the women's event with her 1:53:54 equating to +41:23 on standard (and beating her own age record in the process!). Taking up the final position on the female podium was a shocked Claire Emons (Newbury RC/London & Home Counties Group); her +37:56 (actual time: 1:54:58) not only won her bronze, but also a fifth place overall finish.
The men's event also housed some outstanding performances. Andrew Grant (Cambridge CC/East Anglia) clocked an outstanding 1:47:54 at the age of 68 equating to a standard of +42:38 - and also beating his own age record. Last year's champion, Keith Ainsworth (Sheffrec CC/North Midlands Group) put on a good fight but had to settle for silver this year with a plus of +39:08 (actual time: 1:46:28). The bronze was taken by another a3crg stalwart - Neil Mackley whose fast ride of 1:44:26 resulted in a plus of +37:34.
In the tandem event, Ian Greenstreet and Rachael Elliott (Newbury Velo/London & Home Counties Group) took the honours with a time of 1:41:34 equating to a plus of +38:02 - and setting a new national age record. Runners up were again the illustrious duo of Norman Harvey and Mary Corbett (Sotonia CC/Wessex Group) who masterfully steered their tandem trike "Bonnie" through the nine roundabouts to go 21 minutes faster than their "hoped" time with 2:24:39 - and netting another age record in the process!
The team awards were split by a hair's breadth this year! In the Group competition, the home group (East Anglia) took the honours by just 15 seconds(!) with Andrew Grant, Jackie Field and Ian Hope riding a combined plus of 2:01:20 (the Wessex trio of Angela Carpenter, Neil Mackley and James Fawcett were just nudged out!). Angela and Neil shouldn't be too disappointed, however - the pair, combined with James Fawcett, took the club team championship with a combined plus of 2:01:05 - nearly six minutes ahead of the nearest challengers, Cambridge CC.
The VTTA would like to extend their thanks to Cambridge CC and the plethora of helpers from the club, the group - and further afield - for a first class event. We would also like to give the two riders who had accidents on course today our best wishes for a speedy recovery (both are fine and functioning, although unfortunately one rider does need surgery).
Full provisional results (c/o Glen Knight) are available here: http://bit.ly/VTTA50MileChampionship
We looking forward to seeing riders at the next championship - the 25 mile event on 18 July in the Midlands district.
(Sharp eyed riders will notice the addition of a handicap time on the results sheet - this is the new vets' handicap which the VTTA is trialling this year as a potential replacement for standard. The time is effectively what the rider would ride as a 40 year old male)