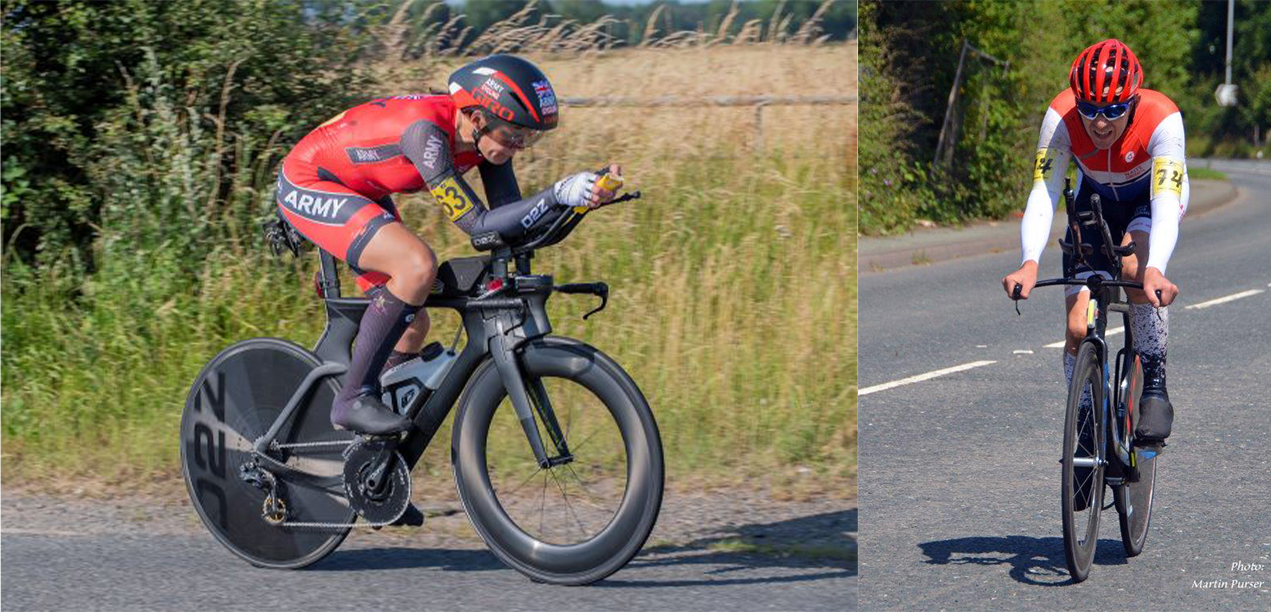 Few would have thought that the staging of the National and VTTA 24 hour Championship would coincide with possibly the hottest weekend of the year. An initial start sheet of 67 riders, including two tandem pairs, was whittled down to 57 starters by start time Saturday. By 2.00 Sunday there were 37 finishers including 17 members of VTTA.
A stunning ride from Christina Murray, Scotland, of 490.28 miles gave her an outstanding first place on Standard with a plus of 161.41 miles. Her distance in the event updates her previous age record set two years ago. Only by comparing Christina's ride with those of the men vets can her performance be fully appreciated. Christina wins the Women's Championship.
Andy Rivett of the Wessex group took second on Standard with a plus of 125.02 (479.76 miles). Andy won the Men's Championship, followed by Doug Hart +112.42 miles and Nigel Briggs +95.31 miles.
Excellent rides from the Dulwich Paragon trio of Hector Kidd, Jamie Baskerville and Samuel Crossley earned them the club championship with a combined plus of +158.55 miles.
Yorkshire Group garnered the Group team award with an impressive counting ride of 470.11 miles from Doug Hart (plus of 112.42) well supported by Sean Sanders, +86.23 and Stacey Stump, +58.45 for a comfortable win with a plus of 257.10 miles.
Credit must go to all finishers performing in such conditions. The ride by Chris Goode must be mentioned for he was forced to change his pedals and wear training shoes for the last hours. Apart from a muscle strain he was more than happy with is performance.
| | | | | | | | |
| --- | --- | --- | --- | --- | --- | --- | --- |
| Rider | Age | Club | Group | Plus | Distance | Men | Women |
| Christina Murray | 44 | Army Cycling | Scotland | +161.41 | 490.28 | | 1 |
| Andrew Rivett | 49 | Velo Club St Raphael | Wessex | +125.02 | 479.76 | 1 | |
| Doug Hart | 48 | Ilkley CC | Yorkshire | +112.42 | 470.11 | 2 | |
| Nigel Briggs | 60 | South Pennine RC | Notts & East Mids | +95.31 | 412.97 | 3 | |
| Sean Sanders | 51 | Drighlington BC | Yorkshire | +86.23 | 434.89 | 4 | |
| Chris Hopkinson | 53 | Team Hoppo | Wessex | +84.11 | 426.44 | 5 | |
| David Greenwood | 56 | Rye & District Wheelers CC | Kent | +82.97 | 415.24 | 6 | |
| Paul Russell | 54 | Springfield Financial RT | North Lancs & Lakes | +82.88 | 421.93 | 7 | |
| Jamie Baskerville | 44 | Dulwich Paragon CC | London & HC | +79.68 | 448.73 | 8 | |
| Hector Kidds | 44 | Dulwich Paragon CC | London & HC | +70.35 | 439.40 | 9 | |
| Stacey Stump | 53 | York Cycleworks | Yorkshire | +58.45 | 400.78 | 10 | |
| Jez Willows | 56 | Sherwood CC | Notts & East Mids | +50.37 | 382.64 | 11 | |
| John Golder | 68 | Chelmer CC | East Anglian | +44.93 | 328.44 | 12 | |
| Richard Walker | 54 | VTTA (North Midlands) | North Midlands | +28.86 | 367.91 | 13 | |
| Samuel Crossley | 43 | Dulwich Paragon CC | London & HC | +8.52 | 380.32 | 14 | |
| Chris Goode | 55 | Yorkshire Coast Clarion CC | Yorkshire | -6.96 | 328.74 | 15 | |
| Robert Finch | 63 | Arctic Aircon RT | Merseyside | -38.55 | 267.13 | 16 | |
| Angus Swanson | 53 | Flying Kippers | Scotland | | dnf | | |
| Bob Richards | 63 | Royal Navy & Royal Marines CA | West | | dnf | | |
| Greg Elwell | 47 | Halifax Imperial Wheelers | Yorkshire | | dnf | | |
| Joanna Cebrat | 42 | Bury Clarion CC | Manchester & NW | | dnsa | | |
| John Hassall | 76 | Bossard Whs | London & HC | | dnsa | | |
| Nigel Brooks | 67 | Flying Kippers | Scotland | | dnf | | |
| Rebecca Wilson | 56 | Rye & District Wheelers CC | Surrey/Sussex | | dnf | | |
| Rob Rix | 73 | Southport CC | North Lancs & Lakes | | dnf | | |
| Robert Bullyment | 48 | Chelmer CC | East Anglian | | dnsa | | |
| Russell Kesley | 51 | Team Hoppo | London & HC | | dnsa | | |