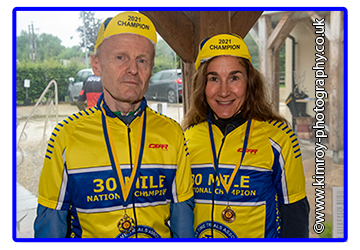 Conditions on the V241 were windless, dull, slightly damp for the early starters turning to heavy rain later in the event. The two laps of this course gave good sight lines and, on this Saturday afternoon, light traffic. Riders faced the challenge of a drag exiting the islands but that had little effect on the quality of performances.
The National awards were based on Veteran Handicap (VH) - the new method of presenting results but still using the standard tables. Angela Carpenter of …a3crg and Wessex group, took the top honours overall. Her Veteran Handicap of 56:46 gave her a comfortable cushion ahead of Peter Greenwood, Clayton Velo and NL&L, on 1:00:18.
It was the men's competition, however, that saw the closest of finishes with Peter a mere three seconds ahead of Keith Ainsworth, Sheffrec CC and NMids.
Overall, in the Veteran Handicap awards the top six positions were shared between three men and three women: Debbie Moss, NL&L and Liz Ball, Yorkshire group finishing in fourth and fifth place and Keith Dorling, EA, taking sixth place.
On actual times Sam Ward from the Otley CC and Yorks, took top place with 1:03:20 and Angela recording 1:07:30 for top in the women's event.
In the Group /Club awards Yorkshire took the Group Gold Medal, led by Liz Ball supported by Darren Yarwood and Sam Ward.
In keeping with "all that's good about Yorkshire", Harrogate Nova CC represented by Grant Whiteside, Michael Cross and Mark Burtenshaw, took top club award
Not forgetting the tandems, Ian and Rachael recorded 1:02:27 to take another National Award.
Thanks to Mike Penrice and his many volunteers this was a very well organised event
VTTA NATIONAL CHAMPIONSHIP AWARDS ON VETS' HANDICAP TIME

1st overall (M or W) on vets handicap

Awarded the Fred Thorpe Trophy for 1 year

Angela Carpenter

...a3crg / Wessex

56:46

1st man on vets handicap

Gold medal, champion's jersey & cap, £25

Peter Greenwood

Clayton Velo / North Lancs & Lakes

1:00:18

2nd man on vets handicap

Silver medal & £20

Keith Ainsworth

Sheffrec CC / North Midlands

1:00:21

3rd man on vets handicap

Bronze medal & £15

Keith Dorling

Team Bottrill / East Anglian

1:01:19

1st woman on vets handicap

Gold medal, champion's jersey & cap, £25

Angela Carpenter

...a3crg / Wessex

56:46

2nd woman on vets handicap

Silver medal & £20

Deborah Moss

Team Merlin /
North Lancs & Lakes

1:01:41

3rd woman on vets handicap

Bronze medal & £15

Liz Ball

Valley Striders CC / Yorkshire

1:02:22

Group team on vets handicap

Gold medals & £20 each

Yorkshire (Liz Ball, Darren Yarwood,
Sam Ward)

3:08:42

Club team on vets handicap

Gold medals & £20 each

Harrogate Nova CC (Michael Cross,
Grant Whiteside, Mark Burtonshaw)

3:22:47

Tandem Champions

Gold medals & £20 each

Ian Greenstreet & Rachael Elliott

Newbury Velo / London & Home Counties

56:23