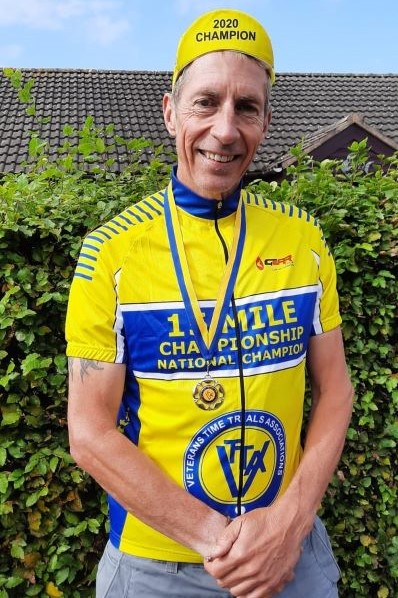 Rider profiles have proved a popular feature in our quarterly 'The Veteran' magazine. Below are excerpts from the Rider Q&A with multiple national champion and prolific medal winner Keith Ainsworth. You can find the full article in the September 2020 edition of The Veteran which is available in the Documents section of the website.
Q1: When did you start time trialling?
2013. For my 50th birthday in 2009 I did a series of charity road rides with slicks on my mountain bike. Eventually I bought a Planet X entry level road bike. After 2 years, the guys persuaded me to race – so I did 2 years of road and cross racing but found it so frustrating and opportunistic and it was suggested I try TT. For six races I put clip-ons on my road bike and did relatively well. I then bought a Planet X entry level TT bike – by the third race I'd done a 53 mins 25 and soon won the Team Swift 10m on the V718 in 20:34.
Q2: What is your TT bike?
Trek Speed Concept (started on a PX Stealth but got to the level where my peers were on top bikes, so I had to upgrade if I wanted to compete)
Q3: What is your approach to training?
I think the contemporary cycling press call it "structured periodisation"; as an ex-runner, we called it, wait for it….."training"! Periodisation means doing certain things at certain times of the year (training phases or periods), to build that ultimate pyramid of fitness for the race season. Even in the 70s as a teenager, all runners followed a standard template of structured periodisation. I genuinely believe those from pure endurance backgrounds (also including rowers and swimmers) have a distinct advantage over pure cyclists, as we bring an ingrained mentality with us, on how training should be done – it's bread and butter, it's what we had to do!
Timewise/mileage – in the race season I hardly do 100 miles per week. However, in the off season and especially in Mallorca (where I have an apartment) I may do 300+ miles per week, but varied stuff, from Fartlek, using inclines, also intervals of varying distance and effort to group café rides
Q4: What have you done (and not done!) to allow you to keep getting so many podium finishes?
Pete Read (RIP) invited me to an end of season test after winning his (Team Swift) V718 in 2013 – he told me then that as I started from scratch so late, it could take 7 years to reach a peak. I remember thinking there was absolutely no way I would be racing at 60! 2018 (aged 59) was my best year for fastest times, but 2019 (aged 60) I improved all my power averages in races…so the answer is, I have just kept improving.
Q5: What do you think about when you are racing?
I think initially it is important to control that early enthusiasm and false strength - I occasionally get it wrong though, so I try and stay smooth and "let the bike do the work". No panics, no surging. Towards the end, pain is just the brain's failsafe, so I try and ignore it and think of the chequered flag!
Since this Q&A was first published Keith has won silver medals in the men's 10, 25, 30 and 50 mile championships in 2021.
Thanks to Jon Fairclough for asking the questions.