The VTTA awards a significant number of trophies each season to men and women competitors, to Group teams and club teams. These recognise performances in:
1. The season long competitions (Best All Rounder, 3 Distance Competition, Short Distance Competition)
2. The National Championship events (10, 25, 30, 50, 100 miles and 12 and 24 hours)
3. Trophies allocated to specific events in the season
4. Trophies awarded for the outstanding racing performace of the season and for service to the VTTA
Below is the list of the current National Trophies and recent winners. A full history of trophy winners and all competitions is provided in the annual VTTA Handbook.
Pictured below are Ian Greenstreet and Rachael Elliott winners of the 2019 CW Cooke trophy for most meritorious racing performance of the season, in which they broke multiple national mixed tandem records.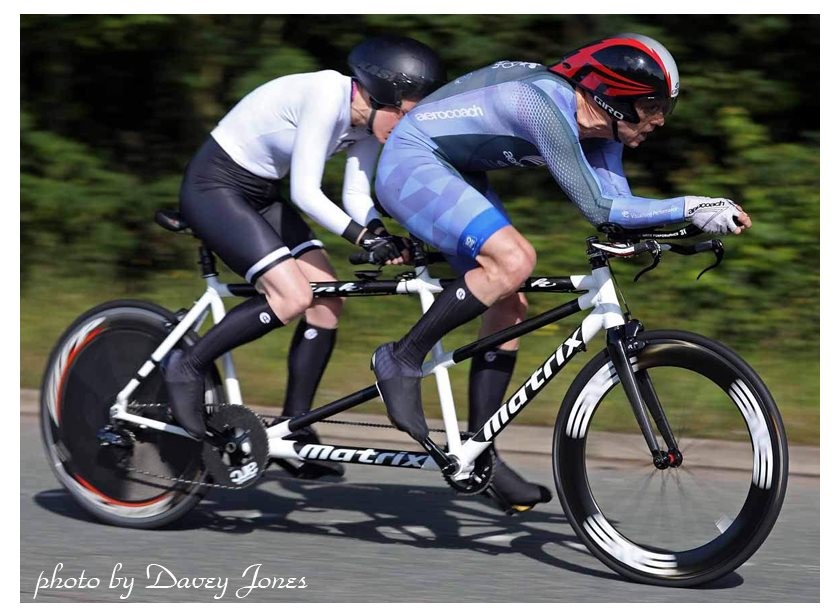 THE SEASON LONG COMPETITIONS
Note on 2020 - No trophies or medals were awarded for the season long competitions in 2020 due to the curtailment of the season by the Covid-19 pandemic which severely reduced the number of qualifying riders. The leading riders in each competition for 2020 were:
Competition Men Women
BAR David Shepherd Lisa Davis
Three Distance David Hargreaves Jackie Field
Short Distance Keith Ainsworth Angela Carpenter
PETRONELLA TROPHY

4 distance BAR - 1st on plus

2012 N Bowdler 2013 K Platts 2014 A Topham

2015 P Horsnell 2016 R Bideau 2017 R Bideau

2018 J Field 2019 D Shepherd

H LIONEL LINCOLN SHIELD

4 distance BAR -1st actual fastest -

2012 N Bowdler 2013 J Dewhirst 2014 A Topham

2015 A Topham 2016 R Bideau 2017 R Bideau

2018 M Ivings 2019 A Jackson

SOUTHCOTT BOWL

4 distance BAR - 1st women on plus

2012 C McLean 2013 A Shuttleworth 2014 Sharon Clifford

2015 Lynne Biddulph 2016 Katja Rietdorf 2017 Katja Rietdorf

2018 Jackie Field 2019 Christina Murray

RALEIGH SHIELD

4 distance BAR - Best Group Team (6 riders) on plus

2012 East Anglian 2013 Yorkshire 2014 No qualifiers

2015 East Anglian 2016 East Anglian 2017 No qualifiers

2018 No qualifiers 2019 Yorkshire

JOHNSON SHIELD

4 distance BAR - Best Club Team (3 riders) on plus

2012 Chelmer CC 2013 Chelmer CC 2014 No qualifiers

2015 No qualifiers 2016 No qualifiers 2017 Born to Bike

2018 Born to Bike 2019 Vive le Velo

DICK CLARKE CUP

3 Distance Competition - 1st on Aggregate Plus Time

2012 P Greenwood 2013 K Platts 2014 P Horsnell

2015 P Horsnell 2016 P Horsnell 2017 P Horsnell

2018 P Horsnell 2019 Angela Carpenter

DON HACKING TROPHY

3 Distance Competition - 1st on Aggregate Actual Time

2012 N Bowdler 2013 J Dewhirst 2014 A Topham

2015 A Topham 2016 R Bideau 2017 R Bideau

2018 A Jackson 2019 Andy Jackson

LONDON GROUP SHIELD

3 Distance Competition - Best Group Team (6 riders) on Aggregate Plus Time

2012 East Anglian 2013 East Anglian 2014 East Anglian

2015 East Anglian 2016 East Anglian 2017 East Anglian

2018 East Anglian 2019 Wessex

DOREEN HUGILL MEMORIAL SHIELD

3 Distance Competition - Best Club Team (3 riders) aggregate plus time

2012 Chelmer CC 2013 Chelmer CC 2014 Chelmer CC

2015 Chelmer CC 2016 Team Swift 2017 Born to Bike

2018 Born to Bike 2019 a3crg

L DE CAMELLIS BOWL

Short Distance Competition - 1st on Standard

2013 T Icke 2014 T Icke 2015 R Hallam

2016 R Hallam 2017 R Hallam 2018 R Hallam

2019 R Hallam

NATIONAL CHAMPIONSHIPS

AWARDS TO 1ST ON STANDARD

KEN MATTHEWS CUP

National 10 miles Championship

2012 R Pears 2013 R Pears 2014 R Pears & D Stewart

2015 D Stewart 2016 R Hallam 2017 R Hallam

2018 R Hallam 2019 K Ainsworth 2020 R Oakes

CHARLIE COLE CUP

National 25 miles Championship

2012 K Tye 2013 R Pears 2014 E Marsh

2015 D Stewart 2016 B Sunter 2017 P Horsnell

2018 S Beldon 2019 K Tye 2020 R Hallam

FRED THORPE TROPHY

National 30 miles Championship

2012 R Pears 2013 R Pears 2014 M Woods

2015 B Sunter 2016 K Tye 2017 T Icke

2018 A Grant 2019 G Hinxman 2020 No event

CECIL PAGET CUP

National 50 miles Championship

2012 B Sunter 2013 B Sunter 2014 B Sunter

2015 B Sunter 2016 K Tye 2017 B Sunter

2018 B Sunter 2019 Karen Ledger 2020 K Ainsworth

DOUG BRUNWIN MEMORIAL SALVER

National 100 miles Championship

2012 B Camfield 2013 J Gresty 2014 S Giles

2015 S Irwin 2016 D Hargreaves 2017 R Bideau

2018 R Bideau 2019 G Hinxman 2020 D Yarwood

JIM PAINTER CUP

National 12 Hour Championship

2012 N Bowdler 2013 K Platts 2014 R Retter

2015 D Shepherd 2016 C Scawn 2017 R Bideau

2018 S Williamson 2019 D Shepherd 2020 A Whiteside

C W COOKE CUP

National 24 Hour Championship

2012 P Moon 2013 P Yates 2014 E Reynolds

2015 P Jackson 2016 E Reynolds 2017 J Mackenzie

2018 A Jackson 2019 Christina Murray 2020 No event

OTHER TROPHIES

STREVENS MEMORIAL TROPHY

1st on standard in an event nominated annually by NEC

BRAFMAN CUP

Best club team on standard in an event nominated annually by NEC

PETT CUP

1st on standard in an event nominated annually by NEC

C W COOKE TROPHY

Most meritorious racing performance of the season nominated by Groups to National Committee

2012 K Platts 2013 P Yates 2014 M Colgreave

2015 J Golder 2016 Lynne Biddulph 2017 R Hallam

2018 K Tye 2019 I Greenstreet & R Elliott 2020 D Shepherd

TED BRICKNELL MEMORIAL AWARD

Outstanding services to the Association, nominated by Groups to the National Committee. The award is retained permanently by the recipient

2012 J Burgin 2013 Anne Butterworth 2014 J Burgin

2015 J Golder 2016 J Burgin 2017 L Dawson

2018 Rachael Elliott 2019 S Lockwood 2020 Carole Gandy