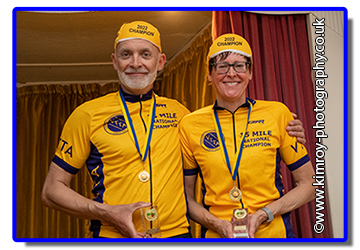 Saturday 16th April saw Manchester & North West Group running the first VTTA championship of the year - the 15 mile championship on Cheshire roads between Knutsford and Holmes Chapel. Local road works demanded some late course adjustments and re-measurement but all was in place with good and sunny conditions on the day.
At this championship the results were presented using the new method of Vets' Handicap Result (VHR). This gives the same result as the traditional VTTA 'plus on standard' but by showing a handicap 'actual' time it is a more intelligible and comparable way of presenting veterans results.
The men's event was won by Richard Oakes (Team Ohten Aveas) with an excellent actual time of 30 minutes and 28 seconds. This have him a Vets' Handicap Result of 28:56 which indicates just how fast he would have gone if he was 40 and not 53. Joe Costello (Walsall RCC) took the silver medal with a VHR of 30:15 and Mike Twelves (Team Ohten Aveas) took the bronze with a VHR of 30:37.
In the women's event, Debbie Moss of Springfield Financial RT and the North Lancs & Lakes Group achieved the top spot on the podium. Her actual time of 35:37 gave her a brilliant VHR of 30:30. Paula Fisher (Born to Bike) took the silver medal with a VHR of 33:34 just ahead of Jan Scotchford (North Lancs RC) who took the bronze with a VHR of 33:50.
In the team events, Oakes led both the Club Team of Ohten Aveas with Mike Twelves and Wayne Smith and the Group Team of East Midlands again with Mike Twelves and Kevin Wood (Sherwood CC).
Pictures are Richard and Debbie in the new style VTTA champions' jerseys for this season which feature the new logo. There will also be a variation of the jersey for all VTTA members which will be available soon.
Thanks to Tony Farrell the event organiser, Mike Penrice as the NEC representative, and their large team of officials, marshals and helpers for an excellent event.