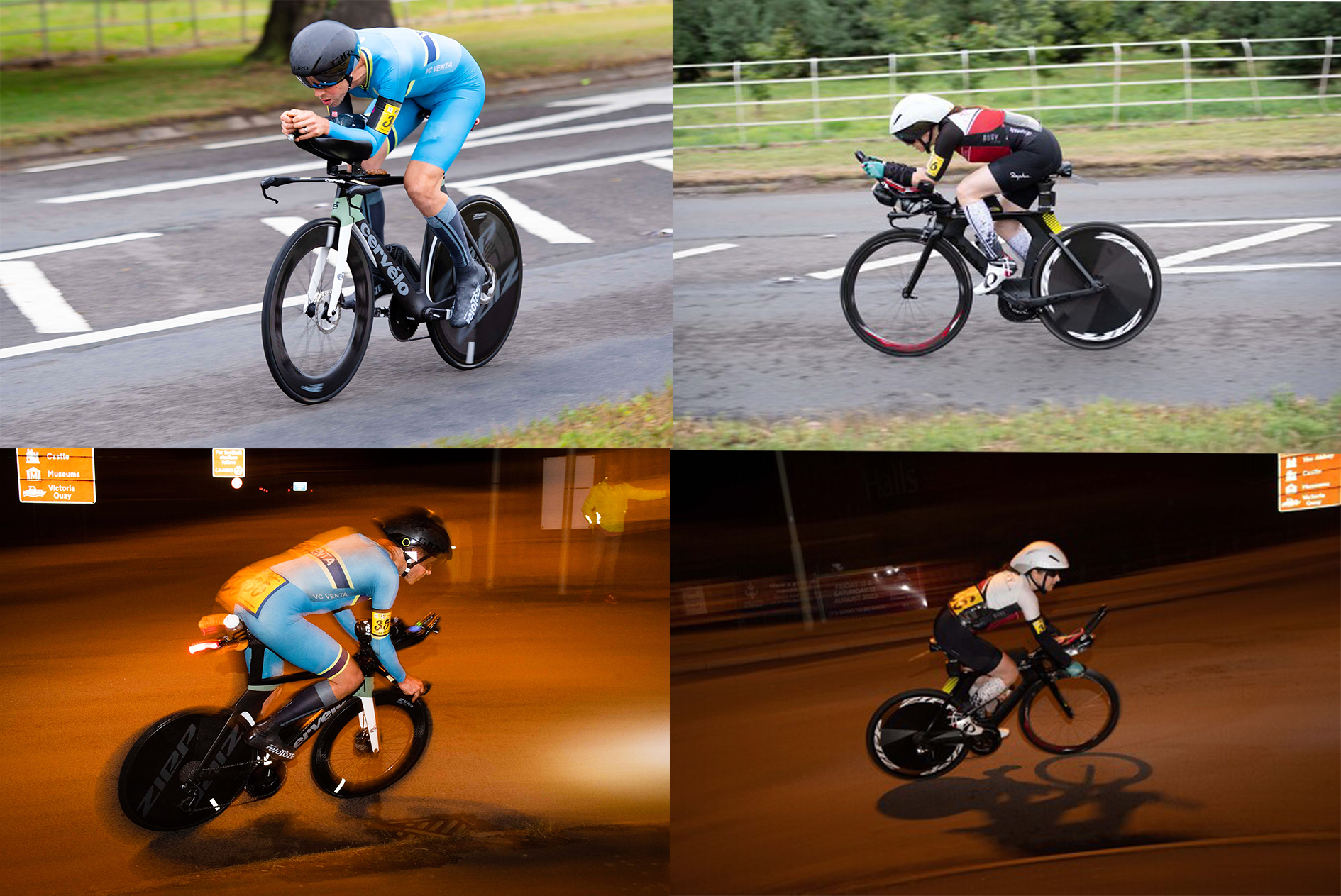 The Mersey Roads 24 hour is always a tough event, and it lived up to its reputation this year. Fifty-four riders started, including two tandems, and thirty-five finished after battling cold, wet, and windy weather overnight. The course was more hilly than usual, with no street-lights on the night circuit.
Nick Tarmey not only won the VTTA National Championship with a plus of 147.51 miles (Vet's Handicap Result of 527.46 miles), but he also won the RTTC National Championship. With a result of 516.56 miles, he was the only rider to exceed 500 miles. Second and Third in the Men's VTTA Championship were Ian Holbrook (+126.92/506.87) and Doug Hart (+120.78/500.73). Nick wins the C.W.Cooke Cup.
Joanna Cebrat (+93.96/473.90)was the Women's VTTA Champion with Rebecca Wilson (+72.94/452.88) in second.
The Yorkshire team of Doug Hart, Greg Elwell and Andrew Askwith were group champions with total plus of 309.05 and VHR of 1448.88 miles.
Donald Mclean and Mark Leadbetter won the Tandem Competition (+53.73/447.87).
Many thanks to the organiser Jon Williams and his support team for running the event, which is the only 24 hour TT still being run in the UK, and has a long history. Participation was down this year. If you have never done a 24 hour, you will perhaps understand from the stories below how challenging and satisfying it is to just finish, let alone win. I hope these stories inspire some riders who have never considered riding for 24 hours to give it a try next year.
Here is Nick's story.
"It is hard to believe, but it all came together perfectly on the day. With amazing support from my dad, wife, and kids, all the training, kit, pacing, and nutrition worked beautifully. Despite some very wet and windy conditions, the plan proved resilient and we made it through without any major issues. Reflecting on it now, I think I've learned two things: Firstly, if you can get a great team around you, figure out the components of a good performance then really work to optimise everything, it's amazing how close someone with fairly average talent can get to a top-level performance. Secondly, part of the beauty of sport is its unpredictability. It is hard to account for chance, weather and variable performances, and there will often be an unexpected winner. I just feel extremely grateful that, this time, it could be me. Since the event, I have enjoyed answering a lot of questions from family and friends about how it went on the day. Here are some of them."
How often did you stop? What did you do in your stops?
"The course was multiple loops of about 35-80 minutes, each returning to a central roundabout where most support teams were camped. My dad, my wife, and my two teenage kids all took turns supporting me from a simple base we set up from our camper van.
We had a well-drilled routine which worked very well on the day. Every 2 hours I stopped at our base and we worked concurrently for the quickest possible pit-stop. The whole process took less than 90 seconds so we averaged about 40 seconds of stops per hour overall. "
What did you eat and drink all that time?
"I had spent a lot of time on training rides figuring out and testing the most reliable way for me to manage 75-90g per hour of carbohydrates, along with electrolytes and plenty of fluid. For the carbs, I took something every 15 minutes. For the water, I kept sipping from a bottle on my TT bars. For the electrolytes, I aimed to get about 500mg of sodium per hour from the drink mix and salty sandwich fillings. In total, I took in 1,900g carbs (7,600 kCal) while burning about 15,000 kCal."
How did you pace yourself?
"In the first 8 hours, I tried to be strict about always keeping my HR below 145 and keeping my normalised power below 210W (67% FTP). The route was quite hilly and it was tempting to push a bit harder on the climbs, but I kept reminding myself of the need to save energy.
In the middle 8 hours (overnight, from 21:30 to 05:30), fatigue started to build and I no longer had to hold myself back. When it became very wet and windy in the middle of the night, it was difficult to judge effort – everything felt like hard work. I tried to ignore any thoughts or sensations and just ride to my target, knowing my body could cope. I had factored in a drop in power of 0.5% per hour, so this meant aiming for 200W overnight.
Towards the end of the ride, and particularly on the bumpy finishing circuit, I stopped looking at power and focussed instead on just sustaining the highest effort I could without feeling too sick or wasted. Eventually, I changed the computer display to just show total time and distance, focusing on racking up as many miles as possible while the clock ran down."
Did it hurt?
"I had told myself beforehand that of course it was going to hurt, so it was no surprise when it did. Because I felt so motivated, and because I had expected the discomfort, it did not really bother me when my neck and backside became sore. The only thing that troubled me about sore muscles was that this might mean they would fail on me before the end. "
Didn't you just want to stop and sleep?
"I expected to feel strong urges to ease up or stop as the ride went on. Actually these were never very strong, probably because I always felt my ride was going well. I definitely felt the impact of being awake for a long time, but more in terms of slow and clumsy thinking rather than a strong urge to sleep."
When did you realise you were in the lead?
"I had no idea until 5 hours from the end when my wife shouted, "you're winning!" from the side of the road as I passed. I could not believe it so I guessed I had either mis-heard her or she was just speaking figuratively. It was 40 minutes later, when I passed her again, that I could check what she meant. From that point on, I had an extra boost of motivation and tried my best to push as hard as possible, telling myself I must not throw away this opportunity by giving any less than 100% to the end."
How did you feel at the end?
"I did not realise it at the time but my 13 year-old son, Will, decided to "interview" me at the finish and record the answers on his phone. You can read the answers in the full story here.
Joanna's story is equally inspiring.
"Having ridden three 12 hr TTs in the past years and achieving good results I decided to challenge myself this year and give 24 hr TT a go. Conveniently this year the 12 and 24 hr TT national RTTC/VTTA championships are 5 weeks apart, leaving the long-distance racers more time to recover and re-train in between. This should be the case every year.
I did not train for it at all. My season has been spoilt by sciatica issues - whoever had this before knows my pain. One day you are fine another day you are in agony unable to walk, let alone cycle. I was really concerned the symptoms may occur during the 24h TT. On entering the race, I had two aims in mind – have a "test ride", learn as much as I can, and raise money for Rossendale Hospice who currently look after one of my cycling friends Charlotte Louise who is fighting cancer. I sympathise with her because I was in a similar situation in November 2020. I was extremely lucky though, but I did go through an emotional hell. I was joking with Charlotte that they probably had her diagnosis wrong too but unfortunately, they didn't.
If it hadn't been for the charitable cause I would have abandoned the race over night together with the 40% of the field who decided to pull out. The long distance time trialists are tough cookies so you can only imagine what conditions we must have dealt with if almost half of the field retired. As the course was changed due to roadworks, we ended up doing the "Battlefield Leg" instead of the usual Tan Hill section. The Battlefield segment is much hillier, and has got no street-lights. I was not prepared for it at all. I was having to run my "basic" lights on full setting and having to swap them whenever I was passing my crew in Prees Heath who were charging them constantly – it slowed me down considerably. I also wasn't brave enough to descent fast on the dark wet road so it felt like constant climbing. I was in a rather poor mental state around 6:30 am when I stopped for my breakfast. I was shivering and feeling sick, luckily my wonderful club mates who were supporting me took good care of me. I was forced to put dry clothes on and have a lot of caffeine to wake up. It did help the morale and I was rolling again. The stretch of road between Prees Heath and the final circuit was a bit of a nightmare – it felt extremely hilly after riding for 22 hours, and when I saw the 18% sign I nearly cried. It totally killed me and I had nothing left on the final circuits. According to my Garmin I climbed 4200m over 425.23 miles. It is about 1000m more than on last year's course. I had a massive saddle rash too that caused agony during the last few hours. I didn't know that on entering the final circuit I was also head to head with the female race leader. If I knew I'd probably have tried harder. My crew and I were relaxed about placing well and so did not time me against the competitors, so I had no clue where I was in comparison. Our only aim was to finish, raise money for charities and get some experience for next year.
I really enjoyed it in a weird way and I am looking forward to next year already. I also learnt that long distance TTs are team events. The crews deserve official medals or certificates of some kind for sure! So big thanks to my crew from 360 Cycling and Bury Clarion CC who were taking shifts, and Mersey Roads 24 who organised the amazing event. Please see the video here"